July 16 2010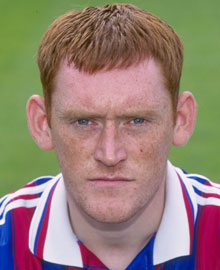 Premiership Champions Chelsea arrive at Selhurst Park to welcome a new era and we do have some recent history and common ground writes Simon Pophale.
The classic match
06/01/1993 - Crystal Palace 3 - 1 Chelsea
When Crystal Palace met Chelsea in the League Cup in 1993, a torrential downpour nearly saw the game called off.
However, Chelsea struggled in the conditions and when an errant back-pass was pounced upon by makeshift forward Chris Coleman, who slid the ball under Kevin Hitchcock and the ball barely trickled over the line to put us in front, it was going to turn into a special evening.
Chelsea got one back from Andy Townsend but further goals from George Ndah and Grant Watts saw us progress to the semi-finals for the first time ever.
They played for both clubs
Crystal Palace and Chelsea have a history of sharing players going back to the 1970s with players such as Bobby Tambling and Charlie Cooke, the 1980s with Clive Allen playing in our colours before swapping them for Chelsea later on in his career, the 1990s with Damien Matthew and David Hopkin and even into the new Millennium with Jason Cundy, Danny Granville and the on-loan Scott Sinclair but one player has played for both clubs and currently featured in Englandís short lived bid for glory in South Africa. I refer of course, to Ashley Cole.
For many Palace fans, Kenny Sansom remains the greatest youth talent to ever pass through the Selhurst Park system, but the impact of Ashley Cole back in 2000, on-loan from Arsenal, cannot be underestimated.
Not only did he remind us all of the talent that once went across the river to the Gunners all those years before, but he played an important part in our survival that season.
His first game was away at Grimsby Town and it was an inauspicious debut, he found himself exposed down the left hand side too many times and he conceded the penalty from which Bradley Allen scored the winner.
Yet he remained undaunted and by the time it came to our penultimate game of the season and the last one (possibly forever) at home against Blackburn, did he seal a place not only in our hearts, but in Palace folklore.
His shot into the top left hand corner to bring us level in a match that we had to win gave him his first goal in professional football but was the springboard for us in surviving that season as Clinton Morrison went on to score the winner and we survived the drop.
Simon Jordan took over in July and his first task was trying to sign Cole from Arsenal. He offered £2m but Wenger turned it down, knowing the player that Cole would mature into. 6 years later and a multi-million pound move to Chelsea proved him right.
Despite the acrimonious move to Stamford Bridge and his elevation to celebrity status via his ill-fated marriage to Cheryl Tweedy, we will remember him for 14 games and 1 goal and while other former Chelsea players contributed more to the Palace cause over the years, Ashley Cole is probably one that would appeal to all fans of all ages, for his part in our salvation in the pre-Jordan Palace years, so it is fitting that our first opponents at home in the post-Jordan era sees him return.
The last time we met at Selhurst
Our Premiership season in 2004/05 and despite the match being on Sky, we slumped to a 0-2 home defeat as Chelsea scored in each half with goals from Didier Drogba and Tiago.
We only had one wayward Andy Johnson shot to savour, but there was the sight of Didier Drogba being "welcomed" by Tony Popovic to Selhurst Park with a crunching tackle which saw him nearly end up in the main stand. The Chelsea striker had the last laugh as all three points went to Stamford Bridge in a match that showed us how far the gap between ourselves and the elite was.