August 6 2010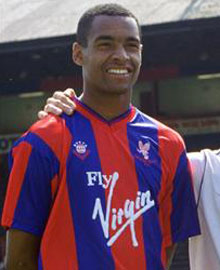 Opening the Ex-Files is a true Palace goal scoring legend. Mark Bright arriving from Leicester City heralded the start of our most successful era, writes Simon Pophale.
When Palace Lifeline and Chief Ben Umunna stumped up £80,000 to bring Bright down South from Leicester City, tongues hardly wagged.
Bright, who started brightly first at Leek Town and then at Port Vale where a goal-scoring run of five successive matches saw his stock rise, moved to Leicester in 1984.
His time with the Foxes saw players like Alan Smith and Gary Lineker ahead of him, and although Lineker left in 1985, Bright's record of 42 matches and six goals would have been disappointing.
His time at Filbert Street was blighted by a pelvic injury, so when Steve Coppell brought him initially on-loan Bright had a chance to impress and from that moment on, he never looked back.
Bright formed a lethal partnership with Ian Wright and between 1986-1989, it was their goals that were the catalyst for our promotion tilt.
Bright was Division Two top scorer in 1987-88 with 24 goals which outlined his goal scoring credentials. However, it would be Wright that grabbed the headlines with wonder strikes but if it was not for the sterling work of Bright, unsettling defenders with his size, winning knockdowns and creating space, Wright would have his work cut out.
A fact never more present than in our promotion season of 1988-89; Mark Bright's goal brought us level against Swindon in the Semi-Final Second leg while if it was not for Wright's two goals in that famous match against Blackburn at Selhurst, we would have never reached the top-flight. Bright contributed 20 goals in that season, a fact sometimes overlooked.
Palace settled into top flight football and Bright did too; as he scored at Old Trafford when we won there in the League and 11 other strikes saw a decent return at the top level.
The next season was our best ever but Bright again was more a provider than a scorer although he did net the winner against Liverpool in the post-Christmas televised match as he steered the ball between Grobbelaar's legs from close range.
The following season Bright became the star as Wright was sold and his return of 17 league goals was testament to how he led the line during the 1991-92 season; a flying header against Sheffield Wednesday in a 1-1 draw towards the end of that season underlined how valuable he was to us.
When he was on the field, we always looked like scoring.
Bright also scored our very first Premier League goal when he scored against Blackburn Rovers in a 3-3 draw.
Sadly, it would be his last goal as in September 1993 Palace sold him to Sheffield Wednesday in a deal worth £1.35m with half of that value coming in the shape of Paul Williams, a striker who only scored at Selhurst when playing against us.
After 286 matches and 113 goals, he left not only memories but an indelible mark on the club. Still the third highest goal scorer in our history, his goal in the FA Cup Semi-Final will never be forgotten but I am sure that every Palace fan, that can remember him, has their favourite Bright goal.
Mine is the winner at home to Millwall when, years before Sheringham and Shearer would link up to score a belter against the Netherlands at Euro 96, Wright fed Bright and he arrowed a shot into the top corner in a 4-3 victory.
Mark Bright: uncapped, unstoppable and unsung.
League Debut/First Goal: 15/11/1986 vs. Ipswich Town (H). Scored in a 3-3 draw.
Final Match: 05/09/1992 vs. Aston Villa (A). Lost 0-3
Final Goal: 15/08/1992 vs. Blackburn Rovers (H). Scored in a 3-3 draw.
Palace Appearances: 286
Palace Goals: 113
Also played for: Leek Town, Leicester City, Sheffield Wednesday, Charlton Athletic, FC Sion, Millwall.
---
In Depth The Ex-Files