June 8 2001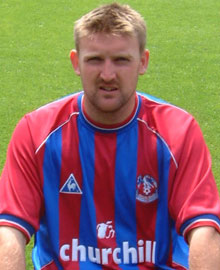 Midfielder JAMIE POLLOCK might still have a future at Crystal Palace now Steve Bruce has been appointed manager.
Bruce said that his squad will all start with a clean slate.
POLLOCK fell out with former boss Alan Smith and chairman Simon Jordan last season and was put on the transfer list.
He spent the final months of the season on loan at Birmingham City and Jordan hit out at the midfielder saying he didn't have a future at the club.
However, the changing of manager could mean a second chance for the former Middlesborogh man.
Bruce said POLLOCK, like every player, will be given a chance to prove himself when the players return for pre-season training.
He said: "I'll be speaking to the staff about our players. I'm not interested in what happened here in the past.
"It is a clean slate as far as I'm concerned and I want to have a good look at everybody before I make any decisions."
Meanwhile, Woking are said to be looking to sign Eagles youngsters Jonathon Boardman and Chris Sharpling. The duo spent some time on loan at Kingfield last season and impressed Woking boss Colin Lippiatt.
Lippiatt tried to sign Sharpling at the end of last season but Alan Smith refused to sell him. Woking are hoping that new Eagles boss Steve Bruce allow the pair to leave for small fees.