August 9 2010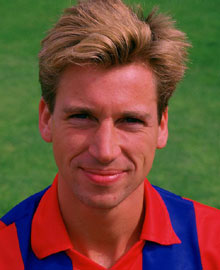 Matches against Yeovil Town are rare but one player who played for both clubs will be remembered for scoring the goal that sent us to Wembley: Alan Pardew, writes Simon Pophale.
The career of Alan Pardew was built on hard work and determination; qualities which saw him rise through the semi-professional ranks into the non-league and then finally into a League career of some standing.
Pardew, born in Wimbledon, plied his early footballing trade in the non-league with Whyteleafe, Epsom, Corinthian Casuals and Dulwich Hamlet.
A move to Yeovil Town in 1986 saw his stock rise but not sufficiently enough for him to stop his day job of being a glazier.
That was until Steve Coppell came calling in 1987 and snapped up Pardew, who had appeared for the England Semi-Professional team, for £7,500.
After making his debut against Stoke City, Alan Pardew became a mainstay in the team, culminating with two moments of magic which we will always remember.
The 1988-89 season saw Pardew make a total of 45 appearances and he also opened his goal-scoring account with a goal against Plymouth in a resounding 4-1 win.
Possibly the finest moment of that season came in the Play-off Final Second Leg when Pardew crossed the ball with the outside of his right foot for Ian Wright to tap in for the opening goal in the comeback against Blackburn Rovers.
The 1989-90 season saw Pardew, despite the signing of Andy Gray, make 36 appearances in the League and although he netted six times that season, the league displays are all but forgotten due to the events that took place at Villa Park on the 8th April 1990.
In his Palace career, this was Pardew's moment and in the 109th minute he ran onto a trademark Andy Thorn flick-on to put us 4-3 ahead and on the road to Wembley.
Pardew had, thus far, survived in a team that had undergone change over the course of our first top flight season.
He started to find opportunities harder to come by in 1990-91 as he played just 19 times and his eight games between August and November in 1991-92 saw him relegated to the subs bench where his final acts saw him looking on as we beat Liverpool at Anfield by 2-1.
On the 21st November, just days before we would get thrashed at Nottingham Forest, Pardew moved to Charlton Athletic on a free and finished as their top goal scorer in 1992-93 with 10 goals, two more than he would get in his entire career with us.
He also played in Europe for Tottenham Hotspur in 1995 as he made three appearances in the Intertoto Cup, before moving onto Barnet and then Reading, as a player/coach.
Pardew might be known now for being a loose cannon in the media and as a manager but his playing career was defined on that magical day at Villa Park and for that, he will never be forgotten.
League Debut: 14/11/1987 vs. Stoke City (H).(W2-0)
First goal: 01/10/1988 vs. Plymouth Argyle (H) (W4-1)
Final Match: 16/11/1991 vs. Southampton (H) (Non-playing substitute)
Palace Appearances: 128
Palace Goals: 8
---
In Depth The Ex-Files