August 13 2010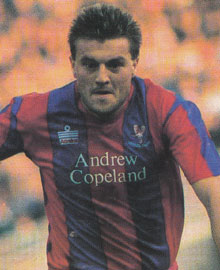 One player who has embraced both clubs but made an unforgettable contribution to Barnsley's cause was Neil Redfearn, but he was well loved at Palace too, writes Simon Pophale.
Redfearn is a modern day footballing hero. His career spanned nearly a quarter of a century and he played over 1,000 matches, with nearly 800 of those coming in the Football League.
His time at Palace was short-lived, when taken in context with the rest of his career. His footballing career began at Nottingham Forest before the Yorkshire-man made his debut for Bolton Wanderers in 1982.
After two years he moved on to Lincoln City and after making a century of appearances, moved on to Doncaster Rovers. In his one season at the Belle Vue, he played a full season but the final match was the fateful match at Valley Parade against Bradford, when 56 people perished in the fire in May 1987.
Shortly after this, Redfearn moved to Crystal Palace for £85,000. Steve Coppell saw that this goal scoring midfielder deserved a higher stage to play at. He joined another midfielder who came from the lower league, Geoff Thomas, as part of a new-look midfield for the 1987-88 season.
Redfearn was employed to supply crosses for the Wright/Bright partnership as well as the tireless running in midfield for Thomas and Andy Gray.
Sadly, some internal strife at the club saw players like Gray moved on and the team's growth was stunted a little.
We were on the up though and Redfearn was becoming an integral part of the team, or he should have been. Yet in the 1988-89 season he was finding himself substituted on a regular basis, which unsettled him and he put in a transfer request, which was granted and he moved to Watford.
Neil, known affectionately around the training ground as "hair gel", played 57 times for Palace, scoring 10 goals.
After an unhappy season at Watford, he moved to Oldham and scored the goal which took the Latics into the top flight in 1991, but was sold due to the return of Mike Milligan to Oldham, his next destination was Barnsley.
This was the defining move for Redfearm, who played for Barnsley for seven years, making 338 appearances and scored 84 goals.
His time there saw an upswing in fortunes for the Tykes and, in the 1996-97 season, scored 17 goals from midfield as Barnsley went up as runners-up and finally got his chance to play in the top flight.
It was a chance that he took with both hands as despite Palace winning our first two matches, away at Everton and Leeds, our first home match was against the supposed cannon-fodder of the division and it would be Redfearn, who plied his trade on our turf 10 years before, who scored the only goal of the game with a rasping 25-yard drive.
Redfearn top-scored again with 10 goals but Barnsley were relegated, along with ourselves in 1998.
He stayed in the top flight following a £1 million move to Charlton, but he was never happy back in South London and moved back to Yorkshire with Bradford City the following season.
After spells with Wigan, Halifax, Boston and Scarborough, who he managed, he moved into the non-league where he still plays today, at the age of 45, for Salford City and works as a coach for Leeds United.
He might not have achieved the notoriety that he got at Barnsley, where all midfielders are now subject to the "Redders Benchmark" but for a short time he played his part in the Palace revival under Coppell and anyone who remembers his tireless running, assists and goals, will look back fondly at Redfearn and say "now that was a proper player".
---
In Depth The Ex-Files