September 15 2010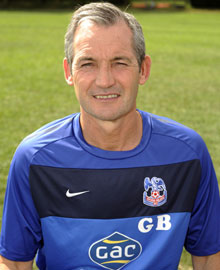 Crystal Palace boss George Burley saluted hat-trick hero JAMES VAUGHAN after he helped see off Portsmouth.
VAUGHAN was making his Selhurst Park debut since joining on loan from Everton and he marked it in style with three goals in a 4-1 victory.
"JAMES was excellent," said Burley. "I feel he will do very well for us, he's a very good striker, young, hungry and has a lot of good attributes.
"It doesn't get much better than a hat-trick on your home debut so he'll be very pleased.
"His first goal was a great finish, he had his back to goal and swivelled and hit it into the top corner.
"When you watch him in training he has that quality so you want him in the box."
Pompey manager Steve Cotterill said: "There were two decisions that I can't see how the ref and linesman came to them.
"I've just been told Nugent's goal was onside, and two minutes later their goal is blatantly offside.
"They go 2-1 up and have a spring in their step. And before that we were the better team.
"What's the point speaking to the ref? You end up getting fined and they laugh at you so what's the point?
"I've also asked Michael Brown 'was it a penalty, did you touch him'? And he said 'no'. And we look like we've come here and had our backsides smacked. No way was that a 4-1!"