October 11 2010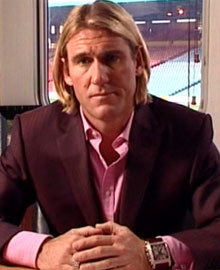 Former Crystal Palace chairman Simon Jordan says he would make a return to football - but never to Charlton.
Jordan was forced out as Palace chief after the club fell into administration in January and losing his personal wealth in the process.
The Eagles were eventually taken over by the CPFC2010 consortium in the summer, and despite getting his fingers badly burned, Jordan insists he would like another crack at the whip.
"Yes, I would do it again," he said. "It's in my nature, it's in my DNA to do things a certain way. Yes of course I would look at things a little conservatively. I wouldn't be so brave and perhaps would be more available to having people alongside me.
"The old phrase in football is 'how to make a big fortune into a small fortune is to buy a football club'. Palace cost me on two fronts. It cost me £35m in cash and £45m-£50m in enterprise value because that £35m could have been used to make at least 5 per cent a year from the banks or sitting on deposits.
"I can point the finger at other people but it was my decisions and I have to take the consequences."
However one club Jordan would not get involved with is Palace's local rivals Charlton who are in financial trouble and stranded in League One.
Jordan said: "I remember seeing [Charlton chief] Richard Murray in court when I took Iain Dowie to court. The next time I talk to Richard Murray will be through a medium.
"The last club that I would buy or be involved with would be Charlton. The only reason I'd buy it is so I could close it down.
"I don't like the way their board operates. I don't like the way Richard Murray conducts himself, I don't like the way their fans conduct themselves in games and I don't like the way I was physically attacked when I went to Charlton and had to get a police escort.
"So it's not my favourite place and they are not my favourite fans or favourite club. They should be extrememly grateful Palace gave them a ground to play at 15 years ago."