October 15 2010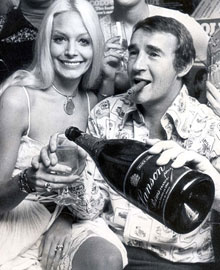 Crystal Palace have mourned the loss of former manager Malcolm Allison who has died at the age of 83.
Allison was one of the most flamboyant personalities in the game - he dated glamour models and was loved for his outspoken views, trademark fedora and sheepskin coat, drinking champagne and smoking cigars.
Big Mal was football's first playboy manager and will be remembered most by Palace fans for leading the club to the FA Cup semi-final for the first time as a Third Division side in 1976.
He also spotted Terry Venables' credentials as a top class coach and gave him his first coaching job while also setting up a strong youth system with many of the players going on to become the "Team of the Eighties".
But perhaps the biggest impact made by Mal at Palace was off the pitch where he brought much-needed bundles of glitz and glamour to Selhurst Park.
He ended 68 years of tradition by changing the dull Glaziers nickname to The Eagles and swapped the claret and blue shirts for more modern red and blue stripes and also brought in the sash kit.
Dartford-born Allison bagan his playing career with Charlton before moving onto West Ham - where he played 255 times and acted as a mentor to a young Bobby Moore - but was forced into retirement because of tuberculosis and the removal of a lung.
"Malcolm saw something in me that others didn't. Yes, I loved him," said Moore.
After quitting football, Allison worked as a car salesman, then as a professional gambler and nightclub owner but returned to the game as manager of Bath City which was followed by spells with Toronto City and Plymouth.
Allison enjoyed success at Manchester City where as a coach alongside Joe Mercer, City won the First Division (1967-68), FA Cup (1969), League Cup (1970) and Cup Winners' Cup (1970). He stepped up to the manager's hotseat after Mercer left but resigned in March 1973 as the team struggled.
Crystal Palace appointed him as their new manager, who was the first celebrity football newspaper columnist, shortly afterwards on better pay - which was just as well as he owed the bookies £1,300 after a session at Sandown.
On his arrival, Allison announced on the pitch: "In two years, possibly less, I will be competing again with the giants of English football. Raymond Bloye has a vision of Selhurst Park as a super stadium of the future.
"I believe I can give him a super side to go with it. I have two years to get Palace into a striking position for honours. The potential is staggering."
Despite winning his first match, Mal was unable to stop the club dropping out of the top flight after five defeats from their last seven matches. In typical fashion, Mal celebrated with the players by holding a banquet at a restaurant.
Palace then suffered a second successive relegation and were left stranded in the Third Division. Striker Alan Whittle said: "It was a great social life under Malcolm. But the football was crap."
Don Rogers had fonder memories and said: "I remember several memorable nights, one in particular in Pisa with Malcolm, myself and Alan Whittle. Malcolm turned to us and said 'Let's have one more bottle of champagne before bed.'
"He called over the waiter and was told the hotel only had two bottles left and both were very expensive. 'We'll have them both then' was his reply. He always wanted us to celebrate the wins and even some of the losses too."
The brilliant FA Cup run to the semi-final after triumphs over big guns Leeds United, Chelsea and Sunderland lifted spirits before eventual winners Southampton ended Palace's route to the final.
Peter Taylor was the star in Palace's fifth round 3-2 win over Chelsea, making one and scoring two at Stamford Bridge.
Mal said: "I always wanted to play a left winger in the outside right position or a right-sided player outside left. When I saw Peter Taylor play I knew I was going to sign him. I was going to make him my outside right and he destroyed full-backs, destroyed teams. He was exceptional down that right hand side. He used to bring the house down. The crowd used to go berserk."
And when Palace's goals went in, the TV cameras panned over to Allison who could be seen raising his now famous fedora in celebration.
He said: "My girlfriend bought the fedora for Xmas for me. I remember reading about a manager called Jack Tinn who was manager of Portsmouth. They were a medicore side.
"Someone said to him 'how do you think you'll do in the cup?'' He said 'you see these spats? We'll win the cup with these spats. I remembered that. When they were making all the fuss about the hat I said 'You see this hat? We'll win the cup with this hat.'
"The supporters were tremendous. We had some good young players coming through. It was a very exciting time."
Mal the Maverick caused a stir by inviting porn star Fiona Richmond to a Palace training session and he was charged by the FA after a tabloid newspaper photograph showed him in the players' bath with her.
See photos from Fiona Richmond's visit here
The club got fed up with his constant self promotion and the often brash and cocky Allison resigned in May 1976 after two successive fifth-place finishes in the Third Division.
Palace were enjoying extensive media coverage with a gifted young squad that was under-achieving - but this was a real hey day for the newly-nicknamed Eagles.
Defender Jim Cannon said: "Malcolm Allison put Palace on the map. No other man could single-handedly take a club from the First Division to the Third Division and still become an instant hero.
"There was an aura about him and, even in the Third Division, if you'd asked any player in the country to come to Palace, I think he would have come."
Allison's protege Venables then took charge of the team and guided Palace back to the big time with a bunch of talented youngsters from the system set up by Allison.
Mal recalls giving Venables his new role: "I sold Don Rogers to QPR and I took Terry Venables. After about six months I said 'Terry, you are getting slower and slower. You are better off coming with me and working on the coaching side.'
"I knew he was a good coach. He was a very bright boy and he worked for me. That night he walked out of my office and he walked down the passage way. And when I said to him I wanted him to finish playing he said 'I wouldn't accept that from anyone but you'."
Allison went on to take charge of Galatasaray, Sporting Lisbon - winning the league and cup - Middlesbrough, Kuwait, Vitora Setubal - working with Jose Mourihno - SC Farense and Bristol Rovers.
He came back to Palace in season 1980/81 for a two-month period but was unsucessful in his attempt to avoid relegation from the First Division.
Mal regularly drank with stars such as Michael Caine and could only be described as part manager, part playboy. He was an innovative and inspirational coach, a colourful character and his legacy at Palace lives on.
"I really enjoyed my time at Crystal Palace. I changed the club," said Allison. "I changed it from being a dull, ordinary club to a really happy club with tremendous supporters, a good cup run, doing well in the league. Bringing in young players and building probably the best youth team they've ever had."