October 21 2010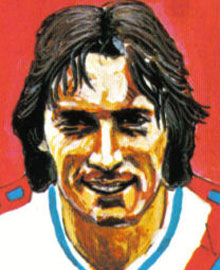 There have been a few candidates over the years of players that have competed for Preston and Crystal Palace, but one player stands out, writes Simon Pophale.
The name probably won't mean a lot to fans born after 1976 but he was a hero to those dressed in white and his name will conjure up feelings of 'what could have been' with regard to his Palace career.
Mike Elwiss was born in Doncaster in 1954. He soon found a passion for the game and joined Doncaster Rovers as a youth player, making his debut in 1971 and scoring, against Newport County.
It was the start of a blossoming career as he was top scorer for the next two seasons and by 1974, when Preston North End came calling, he had amassed 34 goals in 108 appearances. A decent return from a player plying his trade in a team that struggled to finish in the top half of the basement division during his time there.
It was to be a step up as Preston were struggling, as we were also, at the foot of Division Two in March 1974.
However, the step up two divisions proved to be no problem for Elwiss as he scored again on his debut, scoring twice again to get a 2-2 draw against Carlisle. Preston at the time were managed by Bobby Charlton and Elwiss, giving an interview in the Lancashire Evening Post in 2003.
He remembered: "I'll never forget that surreal few minutes before kick-off at Carlisle. Preston's manager, the great Bobby Charlton, was reading the teams out and his arms and hands were shaking with nerves.
"Bobby was an absolute legend, an English hero from '66, and I was thinking 'I'm a 19-year-old kid from Doncaster, how can the great Bobby Charlton be nervous talking to me?' I was absolutely gobsmacked."
Despite his heroics, Preston (like ourselves) were relegated to Division Three. However, Elwiss was now in a team that could challenge for promotion and spent the next four years aiming to get Preston back in the second tier.
A feat achieved in 1978, as Preston went up on goal average in place of Peterborough United. Elwiss had forged a lethal partnership with Alex Bruce and the pair of them scored 121 goals in 142 starts.
This telepathic understanding had catapulted Preston back into the Second Division and those wanting an assessment of just how important Mike was to the team, his strike partner Alex Bruce summed him up by saying:
"Playing football with Mike Elwiss was a dream. In all those games I played with Mick I never saw his head drop once.
"He was as brave as a lion and a fantastic all-round footballer. We were both in our prime then and there was a spell for a year or so when I felt nothing could go wrong. It was like walking on water and Mick was the best striking partner I ever played with."
Qualities that had now not gone unnoticed as clubs such as Norwich, Aston Villa and Coventry (all First Division clubs at the time) would be coveting the Preston captain. It was however, Terry Venables who got his signature by going out to Spain and having him sign while on holiday!
Although it was a wrench for him to leave Preston, Elwiss remembers how he felt at the time: "I was 24 and impatient to get on, I suppose. I'd played there with Preston several times and Palace was a big club then, with average gates of 25,000 to 30,000.
"There seemed to be a massive future ahead with Terry in charge and players like Kenny Sansom and Vince Hilaire coming through. Terry was very young to be a manager, but he had real presence and was bright and astute tactically. It just felt right and I backed my own judgment. When Palace were promoted to Division One I felt they were really going places."
Once again, Elwiss was right but while we were going places, Elwiss sadly never got to enjoy life in the top flight. A serious injury sustained against Burnley in our promotion season saw him make only a handful of starts and he returned to Preston on loan where he signed off by scoring in his last game. He was 27 when he hung up his boots.
We never got to see the best of Mike Elwiss and that he played 20 games and scored seven goals, wont mark him out as being a Palace legend, but his overall contribution to his team mates and to our opponents make him the one in 3 striker that fans love.
Palace Appearances: 20
Palace Goals: 7
Preston Appearances: 202
Preston Goals: 63