October 29 2010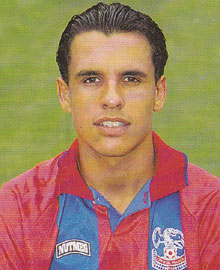 One name jumps out when thinking of players that have pulled on both the Crystal Palace and Swansea jerseys, writes Simon Pophale.
Chris Coleman played almost as many games for Palace, as he did for Swansea but during his time with us he played at a much higher level and also found international recognition.
Chris was born in Swansea and although his youth career was spent away from Wales (at Manchester City) it was on his return that he made an impression and signed for his hometown club in 1986.
Swansea were, back then, in the basement division after tumbling down the league with successive relegations from the top flight.
Coleman made his debut for Swansea in 1987 and during the 1987/88 season became a lynchpin playing 30 games during the season and Swansea going up through the new play-off system.
Swansea kept their place in the third tier for the next three seasons while Coleman plied his trade there. By the time Crystal Palace came calling, Chris had notched up an impressive 130 appearances in Division Three with 160 overall.
Steve Coppell obviously saw something in the boy to spend £275,000 on him for our transitional season of 1991/92.
Coleman spent a fair amount of time in the reserves and being on the bench, mainly as an unused substitute but when fresh impetus to our ailing season was needed, "Cookie" (as he was now being affectionately dubbed in the dressing room) answered the call.
Playing 18 games and scoring four goals, including one which saw West Ham relegated towards the end of that season, Coleman looked right at home whether being used as a defender or a striker.
The next season we were relegated but Coleman had stamped his place in the first team and although was originally a left-back, could play in the centre.
He barely missed a game over the next two seasons, playing every single match in our Championship winning season of 1993/94 (and winning the Player Of The Year award) and missed only a handful of games in our two Premier League campaigns; such was his importance to the team.
It was with us, that he came to international prominence getting 11 caps with Wales during his time with us, from a total of 32.
However, our relegation in 1994/95 saw a number of key players such as Gareth Southgate, Dean Gordon and Chris Armstrong leave the club and with both himself and Richard Shaw (his central defensive partner at the time) unsettled, Coleman started to make overtures that he wanted out.
With the high turnover of players, the departure of the manager, it was a whole new club and while stars like Nigel Martyn continued to perform, we would have new heroes such as David Hopkin and Dougie Freedman.
It was hardly a surprise when Blackburn Rovers came calling and the lure of moving to the Premier League Champions was too much so after 154 games and 14 goals, Chris moved on to pastures new.
To think back to his contribution to our cause, his goals obviously spring to the fore. With the unerring knack of scoring against teams bound for relegation (Notts County, Middlesborough, West Ham), as a striker he was a real handful.
The game that has stayed in my mind was the victory over Chelsea in the League Cup in 1992/93 on our way to the semi-finals.
In pouring rain, Coleman latched onto a back-pass which stuck in the mud, to slide it under the on-rushing Kevin Hitchcock and see it creep over the line. He was amidst a team of young players including George Ndah and Grant Watts but Chris looked like he played in the team for years.
Yet it was his whole-hearted displays in defence that brought him the move away from Selhurst Park and it was these four years that represented the pinnacle of his career.
Palace Appearances: 154
Palace Goals: 14
Swansea Appearances: 160
Swansea Goals: 2
---
In Depth The Ex-Files