November 5 2010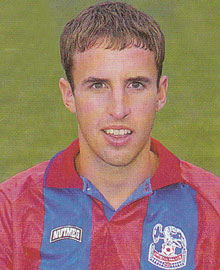 One player has not only played for Middlesbrough and Crystal Palace but captained both clubs and won silverware also, writes Simon Pophale.
I refer, of course, to Gareth Southgate. Now part of the ever-growing Palace presence in the ITV media team.
It was back in 1991 that Gareth made his debut for us on a disappointing night at Anfield when our hopes for finishing in second place died in a 3-0 defeat.
He was one of the first players to come through the revitalised Palace youth system and was, along with the Bisto Kids of Simons Rodger and Osborn, filling the gaps when the squad lost players from the Cup Final side of 1990.
Gareth might have played his debut at right back, but he carved a niche out in central midfield and over the course of the next two seasons became a more solid fixture in the side.
It was the departure of Andy Gray that gave Gareth his chance to shine and he netted his first goal in the opening game of the 1992/93 season in a 3-3 draw with Blackburn. In what was going to become a trademark over the coming seasons, Gareth hit a volley that Bobby Mimms did not even see flash past him following a corner.
Gareth was to add a couple more goals over that season, but despite reaching the League Cup semi-finals, the season was to end in relegation and the sale of Geoff Thomas saw him handed the captaincy for our return to the second tier in 1993.
Yet, in his first season as captain (and the youngest Palace captain to date at 24), Gareth had his best season in our colours. An ever-present, he scored nine goals from midfield including my personal favourite, a 50 yard run and shot against Portsmouth in a 5-1 win back in August 1993. We steamrollered all before us in our return to the Premiership.
In another season where we would come up short, finishing fourth from bottom (but still relegated) and also reaching the semi-finals of both cup competitions, the summer of 1995 was filled with the press touting virtually every Palace player to be on the move.
Gareth was one of the first to go, given the plaudits he had received over the previous two seasons and his move to Aston Villa was no surprise and the £2.5m fee paid should have come as no surprise either.
Six years later, in 2001, Gareth was on the move again, this time to Middlesbrough in a £5.5m deal.
Things had now changed considerably for Gareth; converted into a central defender he had won his first domestic trophy, the league cup, with Aston Villa and was now an established international. Steve McClaren saw him as the ideal player to build his team around and he was handed the captaincy after only a season at the club.
It was a special time at Boro and like it was at Palace, Gareth continued to play for trophies but this time, he played in finals, rather than losing in the semis. Victory in the League Cup in 2004 brought Boro their first ever trophy and consistently high finishes in the League saw Boro play in Europe on a regular basis.
Which was to be where Gareth ended his playing career as his final appearance for the Smoggies came in their 4-0 drubbing at the hands of Sevilla in the UEFA Cup in 2006.
Yet Gareth was to move into management immediately to fill the gap left by Steve McClaren, who took the England job. Despite not having the requisite qualifications for being able to manage in the Premier League, special dispensation was granted so he could manage, while he took his UEFA Pro coaching licence.
Gareth's management career was however, not going to be as successful as his playing career. Although initially Boro finished in respectable mid-table positions in the Premier League, Gareth's tenure saw players leave and, just like at his time at Palace, found replacements of the same quality difficult to come by.
Season 2008/09 saw Boro relegated despite Gareth's best efforts to keep them up and although initially declaring he was up for the challenge of getting Boro back into the Premier League, chairman Steve Gibson decided, with Boro lying fourth that a change was needed and Gareth was sacked and replaced by Gordon Strachan.
Since 1990, there have been a few players who have gone on to hit the heights but Gareth was always a little bit special. A natural leader, published author and poet, there are many strings to his bow. Now a media pundit, Gareth is more than your average footballer.
Palace League Appearances: 152
Palace League Goals: 15
Boro League Appearances: 160
Boro League Goals: 4
---
In Depth The Ex-Files