November 5 2010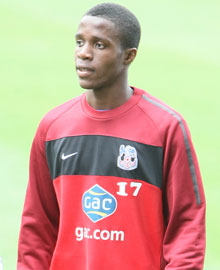 Wilfried Zaha has handed Crystal Palace a major boost by signing a four-and-a-half year contract.
The 17-year-old striker has been a revelation since breaking into the first team from Palace's Academy and his commitment to the club will delight fans.
Zaha made his debut against Cardiff at the end of last season and netted his maiden goal on his second appearance in the opening day win over Leicester.
He told the official website: "I am delighted to be signing this deal and is just another highlight of my first season as a first team player.
"It has all happened so quickly. This has all happened so quickly as I have gone from playing in the academy to then signing this new contract. It is a dream come true.
"Me and my family are all based in Croydon and its great to be part our local club and getting games in the championship at my age."