November 8 2010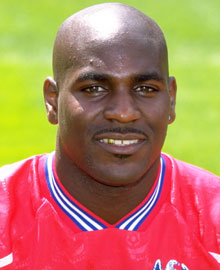 Watford and Crystal Palace were involved in the deal that brought football its first £1m teenager, writes Simon Pophale.
I refer, of course, to Bruce Dyer. It was his breakthrough season and 29 games and six goals for the Hornets persuaded Alan Smith to part with the seven figure sum as we were on course for the Premier League.
The heavy burden of the "million pound teenager" tag though was to weigh heavily on Bruce as he scored just once in our Premier League campaign, although he was, more often than not, played out wide and not down the middle.
The next two seasons, which saw us reach two play-off finals, saw Bruce finding his feet and his form as he scored 30 league goals across the two seasons and was part of the team that started so brightly in the Premier League in 1997/98, scoring in the first game against Everton.
However, he was to struggle again and despite a hat-trick in the FA Cup that year, the season brought him only three more goals.
The 1998/99 saw Bruce move on to pastures new as he transferred to Barnsley during the ill-fated Terry Venables tenure for £700,000.
Bruce had his best spell of his career with the Tykes with a scoring record of a goal nearly every three games. After 181 league appearances, he moved back to Watford in 2003.
As Dyer had found when he moved to Palace, going back to Watford saw him on the fringe with players like Heidar Helguson and Danny Webber in the first team. Starting 39 times in his two-year stay, scoring 12 goals was no bad return, but his 28 sub appearances and not a single goal probably tell its own story.
Aidy Boothroyd, who took over at the club in March of 2005, ran the rule over Dyer but deemed him to be surplus to requirements and he was released at the end of that season.
The remainder of Dyer's career is not a happy tale. At 30, a striker is at his peak but Dyer found the next three years to be in the footballing doldrums. Moves to Stoke, and Sheffield United were short lived and despite playing for two years at Doncaster Rovers, he made only 31 appearances for these clubs over three seasons.
The fire seemed to have gone out, as loan spells saw brief appearances for Bradford, Chesterfield and York and at age 33, Dyer was forced out of the game through injury.
Bruce was a one in four striker at the end of his career, with 469 league appearance and 117 goals and although he may not have had his best period with Watford and Palace, he should be remembered for his contribution.
Palace League Appearances: 135
Palace League Goals: 37
Watford League Appearances: 108
Watford League Goals: 18
---
In Depth The Ex-Files