November 12 2010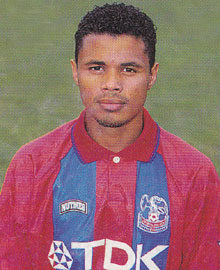 John Salako is probably the most famous Crystal Palace player in recent times to have plied his trade at Coventry City, writes Simon Pophale.
It was not all success at first for Salako at Palace. Despite making his debut back in 1987, he had a lot of the tricky wing play that we remember him for, but with little end product. By 1989, he was on loan at Swansea and was recalled after impressing with three goals in 13 matches.
He went on to star in our epic FA Cup run, playing an integral part in the semi final and final, before going on to star in the team which finished in third place in the First Division.
This earned Salako an England call-up and despite starring in a tour of Australia and New Zealand, his appearance against Germany when he hit the post in a friendly in 1991 would be a possible standout moment.
However, tragedy was to strike as in a match against Leeds United in October 1991, Salako sustained a serious knee injury which kept him out for over a year. He was forced to sit on the sidelines as the team that had done so well was broken up and was relegated in 1993.
Yet the 1993/94 season saw a resurgence for Salako. In one of his first starts of the season, he scored a hat-trick against Stoke City and continued to turn on the performances, appearing in all but eight of our league games that season.
Despite returning to the Premier League (and scoring twice against Arsenal in a rare win at Highbury), saw Salako return to the big stage but our relegation in 1995 saw the Nigerian born left-winger move to Coventry City for £1.5m.
Throughout his time at Palace, John never won Player of the Year which would seem unjust but consider the players who were around him. It was right and proper then that he was included in the Centenary XI, such was his contribution to our cause.
While it was sad for us to lose our flying winger, he clearly was not the same player that tormented teams back in 1991. Plagued by minor injuries and recurrent breakdowns, Salako managed 85 appearances in three seasons for the Sky Blues, scoring eight times.
Towards the end of his time at Coventry, he was on-loan at Bolton which was a precursor to his exit at Highfield Road. Despite playing for a further seven seasons, it was a sad way for a player who promised so much, to finish his top flight career.
Palace Appearances: 273
Palace Goals: 33
Coventry City Appearances: 85
Coventry City Goals: 8
---
In Depth The Ex-Files