November 15 2010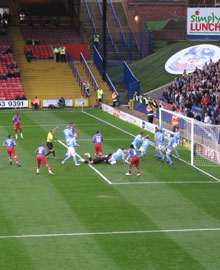 After a dramatic, if not traumatic, week in Crystal Palace history, Jamesey gives the lowdown.
Well, you could have smashed me across the head with a £43m Chinese vase.
First of all came our trip to Middlesbrough last Saturday (Nov 6). We were 1-0 up at half time but could we hold on for a priceless three points? Er, no, not really.
We conceded two in the second period, the Boro clincher being a beautifully executed own goal from Paddy McCarthy of which any striker would have been not only over the Moon, but probably over Uranus as well (if you'll pardon the expression).
Then came the visit of Watford on Tuesday (Nov 9). Again, we were 1-0 up at half time but when we conceded twice early in the second half, even the most faithful Eagles fan could have been forgiven for mentally groaning "here we go again".
But we weren't going down the road to perdition this time after a lovely brace from Owen Garvan gave us our wildly celebrated third home win of the season. It wasn't a resounding victory but no less sweet when you are looking upward from as far down the table as you can get.
Hot on the heels of the squidging of the Hornets came another home game the following Saturday (Nov 13). This time the opposition were Coventry City and once more, we were 1-0 up at half time. But instead of giving our supporters the screaming abdabs, we doubled the tally and took a second home win on the trot.
Not only that, but the victory took us one place up from the bottom of Division 2. That, to the impartial observer, may seem a very small cause for elation. But when a team is at rock bottom, a football fan has to make the most of anything that suggests even a tinge of improvement.
Having said that, this writer thought that our performance against the Sky Blues was extremely encouraging.
It seems as though one has to make the following comment at every game - Julian Speroni was magnificent and made three world-class saves, the last of which towards the end of the second half defied the laws of bodily movement and gravity. Jules is, to my mind, the best keeper I have ever seen in the Eagles goal and that includes the towering figure of Nigel Martyn.
And to think he played second fiddle to Gabor Kiraly for so long. How lucky we are that he stayed at Selhurst but for how much longer must be only a matter of time.
Wilfried Zaha improves with every game and had the Coventry defenders well and truly bamboozled on many occasions. He turned in a winger's performance that reminded me of the great Vince Hilaire.
And Darren Ambrose? Well, need I comment?
In fact, the entire team bar one all played their hearts out. Unfortunately James Vaughan increasingly looks like a striker who can't cut the mustard in Division 2 never mind the Lotsalollyship. He seems unable to hold the ball or pass intelligently, if at all, to his own team-mates. It will be a great relief to me when he returns to Everton from whence he came.
Of course, we Eagles supporters have seen a string of false dawns as long as your arm over the decades.
On every one of our rare wins this season, we have all hoped that this was the turn-round that would start lifting us to a less anxious position in the league.
The way the team played against Coventry gave strong grounds for believing that this particular dawn was decidedly not false.
---
Email Jamesey with your comments to jevans3704@aol.com
In Depth Jamesey's Veteran View Index