November 23 2010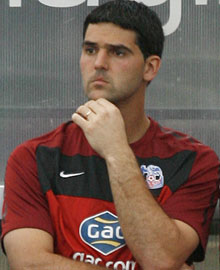 Julian Speroni will confirm whether his future lies at Crystal Palace within "the next few weeks".
Palace have made the goalkeeper, who is in the final year of his contract, a final offer with improved terms.
Now the Eagles' Player of the Year will decide if he is to take up the deal or look for a move to the Premier League with Fulham favourites to land his signature.
He told the South London Press: "Weíve finished all negotiations. Crystal Palace have made their last offer and now Iím going to have to think about it - not only career-wise but family-wise.
"In the next few weeks Iíll make a decision and this is huge because Iím at the best moment in my career. Iím 31 and I have to get it right. I donít want to do something in a rush and make a mistake. That is why Iíll take my time and try and make the right one.
"I love the football club and it is not just about money, there are other things as well. Iíve been at Palace for a long time and the love I feel for this club is something Iíve never had anywhere else in my career. That plays a big part in my decision."