December 10 2010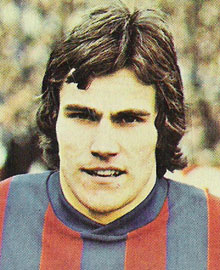 This week's column focuses on a player who turned out in our colours and then managed both ourselves and Hull City writes Simon Pophale.
Peter Taylor, the player, joined us from Southend United in 1973 and was probably, on reflection, the most successful of the signings made by the late, great, Malcolm Allison.
We were in decline when Taylor joined us that the player who moved from Division Three, soon ended up back there as we were relegated in 1973/74.
Yet, it was in Division Three that Taylor started to impress and over the next two seasons scored over 30 goals as we aimed to get out of football's third tier.
His efforts did not go unnoticed either, as he was selected by England and appeared in a few of the home internationals.
His elevation to the England side saw other clubs covet our speedy winger and inevitably in the 1976/77 season a £200,000 offer from Tottenham was too good to turn down.
Spurs were in decline and were relegated at the end of the season, while we were promoted back to Division Two.
He would return to Selhurst Park as manager nearly 30 years later, but this would be via our opponents Hull City.
Taylor, who had success at Gillingham but had his record tarnished at Leicester City, arrived at Hull City via Brighton and Hove Albion in 2002 and spent nearly 4 years on Humberside.
During his time at the KC Stadium (which Hull moved into during his first season), he achieved promotion in 2003/04 from Division Three, then managed the same feat in League One a season later, as the club reached the Championship. In his only season with Hull in the second tier, Hull finished 18th.
Once again his feats had gained suitors and so it was that Peter Taylor, the manager, made a return to Selhurst Park in 2006.
Charged with the task of promotion, Taylor brought in a number of players but failed to get into the play offs.
By October 2007, the club was teetering above the relegation zone and following a poor display, ironically against Hull City, the end of the match saw Taylor walk down to the tunnel on his own, a sure-fire signal that not only had he lost the confidence of the players but also the coaching staff.
His time with Palace ended just two days later. A sad end for what was a player who was one the very few not only to play for England while wearing our colours, but to score also.
He was a leading light during a time of great darkness, but sadly his managerial time with us, did not live to the reputation he had garnered at Hull.
Peter Taylor (Manager):
Crystal Palace: Won 21, Drawn 16, Lost 23
Hull City: Won 77, Drawn 50, Lost 57
Peter Taylor (Player):
Palace Appearances: 142
Palace Goals: 39