January 2 2011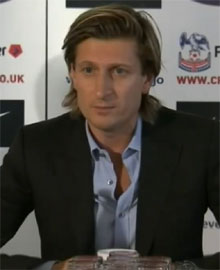 Crystal Palace chief Steve Parish admits hiring George Burley was "a mistake."
Burley was sacked as manager following the 3-0 mauling at arch rivals Millwall with struggling Palace lying just one place off the bottom of the Championship.
Co-chairman Parish only hired Burley in June when the CPFC2010 consortium bought the club but he takes his share of the blame for the Eagles' plight and insists axing the former Scotland boss was not a rash decision.
Exclusively speaking to fans on the Holmesdale.net forum to explain the decision, Parish said: "It wasn't a knee jerk reaction. I have had concerns for a while that I had made a mistake. In the end I don't think George and Crystal Palace were the right fit.
"I spoke to George more or less everyday. I have no issues with him, he's a decent hardworking and very nice man. It was difficult to have to tell him as I think it's as much my fault as his."
Explaining some of the reasoning behind the sacking, Parish added: "We lost 3-0 to Scunthorpe - their wage bill is 50 per cent of ours and we lost 3-0 to Millwall today. I don't know what theirs is but it's basically the side that got promoted from League One plus some low cost or free signings.
"Swansea don't have a bigger wage bill than us. Ok Boro's is five times ours but... we lost two players who were first team regulars at the end of the season in Clint Hill and Shaun Derry. Other than that the players were let go or sold by the manager.
"We lost two players from the end of the season that were regulars that we couldn't prevent. The others leaving were Burley's choice. Not much to ask your new manager is it? To replace two players?
"We needed to strengthen the squad in the summer, we had another opportunity in the loan window. For example, we lost today to a loan player from that window, we didnít get anyone in spite of the fact we new JV [James Vaughan] was going."
Dougie Freedman will take charge of team affairs when the Eagles host relegation rivals Preston on Monday and Parish has not ruled out the Eagles legend taking the job full time if he does well.
"Lets hope he makes it very very difficult for us," said Parish.
Parish confirmed former Tottenham striker Steffen Iversen has joined Palace on a free transfer from Rosenborg with the 34-year-old signing a six-month deal, rising to 18 months depending on apperances.
"Stefan was George's idea we have been tracking his situation since the summer," said Parish. "The entire current management team think he is a decent addition to the squad. It's also very low risk and isn't instead of anything else we might do.
"We have a short short-list [of managers. We'll appoint as] quick as we can, 'right' is more important than 'right now'.
"I'm not really going to comment on who the next manager might be at the moment. The new manager will be given funds that we know are enough to be competitive in the division."