November 18 2011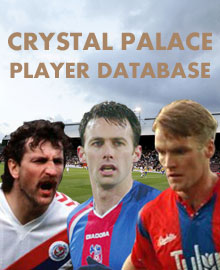 The Holmesdale Online has launched a Crystal Palace Player Database.
Crystal Palace Player Database
It was a mammoth task and has taken a great deal of time to create this new piece of functionality on the website.
We have ingested the largest collection of stats available about Palace players past and present right back to the club's birth in 1905.
Search for players alphabetically, by their position, season or nation. Order players by appearances, goals and star rating.
View a player's profile with photo, information, statistics and news articles. Unlike other sources, this includes league and all cup data going back to Palace's first ever season.
Rate a player using our star rating system - you must be logged in - and over time, an accurate list of the best and worst players will be created.
Write your favourite moment, goal or game in the comment box, and Facebook 'Like' or Tweet the profile to your friends.
It is a great place to go to look at players you forget ever played for the club and try to work out why Ade Akinbiyi's goal record was so bad or how many Italians played for the club.
It really was a beast of a project so please have a look for yourself and let us know any feedback or if you spot any errors.