June 22 2011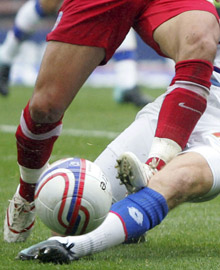 We look back on Crystal Palace's 2010/11 campaign with some key facts and figures.
11 - Penalties conceded by Palace over the season - the most in the division.
81 - Number of yellow cards picked up by the Eagles - the joint-second highest in the Championship.
15,351 - The average attendance at Selhurst Park for the season.
13 - Consecutive number of home matches where Palace were unbeaten (November 9 to April 2).
46 - League games played by Palace's ever-present defender Nathaniel Clyne.
13 - Clean sheets made by Julian Speroni in the league over 2010/11.
9 - The goals scored by Palace's top scorer James Vaughan.
8 - Number of consecutive clean sheets made by the Eagles at home (November 13 to February 19).
4 - The most assists made over the campaign came from Wilfried Zaha and Neil Danns.
43 - The highest number of shots on target in the season were from Darren Ambrose.
9 - Red cards shown to Palace players - the second highest in the Championship.
34 - The biggest number of shots off target was made by Darren Ambrose.
7 - The times Darren Ambrose hit the woodwork during the season.
49 - Neil Danns commited the most fouls by a Palace player.
9 - Number of yellow cards collected by James Vaughan and Paddy McCarthy each.
419 - Number of shots on goal made by the team both on and off target - the fewest in the Championship.
3 - The number of penalties conceded by centre half Paddy McCarthy.
17 - Highest amount of substitute appearances were made by Wilfried Zaha.
1 - Palace only claimed one victory away from home - the lowest in the division.
44 - The total goals scored by Palace which was the joint-second lowest in the Championship.