August 22 2011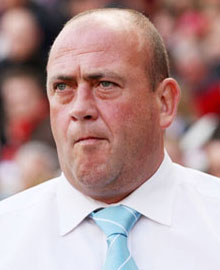 Never in several decades had Jamesey seen a Palace team come from behind so late to secure three points against Coventry City. Our trip to Hull brought an even bigger shock - an away win...
It is most gratifying to be fifth in the table after three wins on the trot. I didn't get to the Hull game but made a bit of an effort to get down to Selhurst for our floodlit match during the week.
I'm not all that keen on evening games especially when, for some unfathomable reason we start later than everyone else but I was at my post on Tuesday night for the visit of Coventry City (Aug 16).
My first shock - and there were quite a few - of the evening was seeing ex-Palace favourite and Sky Blues manager Andy Thorn waddling down the touchline.
Brought in by Steve Coppell to strengthen our defence, Andy was an integral part of the side that gave us arguably our most successful few seasons ever in the early '90s.
Time can be unkind to all of us and even I am not the handsome, slim, dark-haired youth of yore but Andy, still only in his mid-40s, looked as though he was competing with a former Coventry boss, the legendary John "Shnozz" Sillett, in the Fat Ugly Bald Old Men Stakes.
Well, the sweet bird of youth had certainly flown if not rocketed away in Andy's case, and he was totally unrecognisable from the lithe, young defender of yesteryear.
Anyway the real question was not his looks but whether Andy could coax a result out of his team and despite Palace looking the better side it seemed as though one Coventry goal - after silly defending by the Eagles - was going to be enough to snatch the points.
In my view, Palace didn't look as good as they did on Saturday (Aug 13) in the Burnley home win. But they certainly looked good enough to win the game. And win it they did with an equaliser on the 90-minute mark and a winner right at the end of injury time.
Delirium reigned and the Eagles supporters went justifiably mental after putting us into the play-off zone.
I am afraid a trip to Hull was a bridge too far for me, but I was looking forward to listening to the game on Palace Player on Saturday afternoon (Aug 20).
It was unbelievably irritating to find that, despite the Palace Player lot having recently raided my bank account for another £35.99 annual subsciption, the blasted link wasn't working.
Many other HOLlers were posting on Palace Talk to say that they, too, were having problems accessing the game.
Fortunately a Good Samaritan posted us a link and we were able to hear our team grind out a 0-1 victory after a first-half own goal from Hull.
I think the broadcast was a local BBC Humberside station so the commentators were obviously biased towards the Tigers but, even so, they were quite complimentary to Palace and, if anything, critical about the Hull performance.
The Hull supporters were also highly disgruntled judging by the booing and early departures as the match drew to its conclusion and I could hardly believe my ears when the final whistle sounded and we had not only won three games on the trot but achieved that rarest of rarities in recent times - an away win.
My admiration goes out to those never-say-die travelling supporters who had waited so long for the sweet taste of victory. The first of quite a few, we hope.
---
Email Jamesey with your comments to jevans3704@aol.com
In Depth Jamesey's Veteran View Index