September 28 2011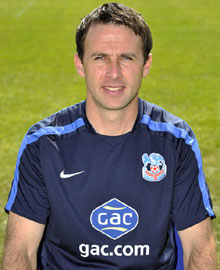 Crystal Palace boss Dougie Freedman paid tribute to Glenn Murray after he scored in the win over old club Brighton.
Palace fought back from going a goal down in the seventh minute to win 3-1 thanks to strikes from Wilfried Zaha, Darren Ambrose and Murray who silenced the boo boys with a stoppage time effort.
Freedman said: "He [Murray] didnít celebrate because heís a good guy who has gelled into the team and wants to help the three youngsters around him.
"Glenn played very well as he has done since heís been here but it wasnít the Glenn Murray show, itís the Crystal Palace show and he buys into what we are and he has done that.
"Iíve watched him all last season and heís a wonderful player and a wonderful addition to the squad, Iím really pleased we got him to come here because we worked hard on it."
He added: "Itís a daunting place to come, we saw that in the first 15 minutes, but I felt after that we played the rest of the half in control of the game but without looking like scoring.
"In the second-half we tweaked it a bit and the subs made an impact and we controlled the game.
"Most of the game was played in their half and I felt 3-1 was a fair reflection of the game. It's fantastic for the fans, they have been through a lot in the past few years.
"Itís no gimmick, these young players are, as we saw in the second-half, great talents and if given the opportunity and the freedom to play, theyíll go and play football.
"The great thing about the likes of Williams and Zaha is they could have been playing in Clapham Common and they would have still done the exact same thing because thatís the sort of kids they are, and itís a joy to watch."
Brighton boss Gus Poyet said: "I'm sad because it was Palace, if it was any other team I would welcome this because it brings people back down to earth, because we are not as good as we looked in the table.
"As a team if you don't want to lose one game it's against Palace, but we did and we have to take it. But it's good for me, I learned more in this game than from games we win.
"I'm not happy for Palace but I'm happy for Glenn, he's a good lad. The problem is we cannot seem to play for 90 minutes. I started playing in 1992, and from then until now the game has always lasted 90 minutes."