November 15 2011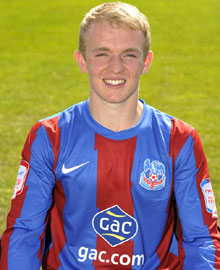 Crystal Palace midfielder Jon Williams has suffered a broken leg whilst playing for Wales U21s.
Williams lined up for the Under 21 Welsh team this afternoon when they took on Armenia in the latest Euro 2013 qualifying game.
He was substituted on 72 minutes after suffering a serious leg injury in a challenge by an Armenian.
Reports via twitter have confirmed that the youngster has suffered a break of a leg after having x-rays.
It is not known yet how long he is likely to be out of the game, but it is a major blow to the Eagles' Championship and Carling Cup campaigns.
Dougie Freedman told the Official Palace website: "We're still awaiting further news (on the extent of the injury). It's obviously very sad for the young man and his family first of all. But, knowing Jonny, he's a very positive person with a lovely family to support him. He's got the club's backing in terms of giving him the best medical care he could get.
"These things, set-backs, happen in life, not just in football but knowing the person and the family I think this young man will cope with it very well and probably come back better physically as well as mentally. It's sad news but you will see Jonny Williams' character coming through and he will be back in a Palace shirt."
The Holmesdale Online wishes Jon all the best in his recovery.