December 2 2011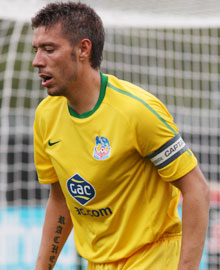 Jamesey salutes the faithful Palace army who went to Old Trafford and were handsomely rewarded.
Palace fans all over the world were glued to their radios, computers and TVs on an evening when Crystal Palace met Manchester United at their place (Nov 30).
The occasion was, of course, the quarter finals of the Carling Cup and, needless to say, the Eagles were the underdogs to put it mildly.
Even the staunchest Eagles supporter could have hoped for little more than a creditable and brave display - but a victory? The phrases "pie in the sky" and "cock-eyed optimist" spring readily to mind.
I last visited Old Trafford almost exactly seven years ago and the occasion was also a league cup tie. Both sides were in the Premier league at the time so we were not quite so underdoggish as we were now.
I can't remember how many away supporters turned up for that game but numbers were nothing like the 5000 souls who saw us go through to the semi-finals with a 1-2 victory.
In 2004, we were dumped out of the competition, losing 2-0, and no one was terribly surprised.
These days, owing to ageing bones, health issues and financial pressures, I rarely travel away, and had to content myself with watching the game in a Clapham Junction hostelry. My companions for the evening were two Man U supporters (both originally from the north-west) and a Leicester fan.
It is not always easy to estimate the levels of enthusiasm of the crowd because microphones can always be placed in positions to exaggerate the noise.
But I can't see that Sky would be interested in ramping up the volume of Eagles support and right from the start the Palace chanting seemed to dominate the 50,000-plus attendance.
I soon sensed that this match was not going to be a routine small fry elimination as Palace played football the like of which I have seen in only very brief glimpses at Selhurst this season.
When my Man U companions started to shout at their own team on the screen I got an even stronger premonition that this might be our night.
We were all into our third pint of Fuller's London Pride when the impossible happened. Substitute Darren Ambrose produced a stunning 35-yarder which rocketed into the net. Even Gary Neville, now an apprentice pundit, said it was the best goal he had seen scored against them at Old Trafford. 
This was the Dazza we love to remember and who hasn't been showing too much in recent times. One up to the Palace.
The Palace noise got louder and the Man U shouts of anger at my table grew louder too. But Paddy McCarthy's shirt-pulling episode gave the Manx a penalty which they duly converted.
But the Eagles were still looking good value with accurate and incisive passing, resolute defending and ever-growing confidence.
"Your lad WILFRIED ZAHA has added a couple of million to his value tonight," said my companions grimly.
Glenn Murray's header in the first period of extra time won a historic victory for Palace and even after that, our keeper Lewis Price had little to worry about.
At the final whistle 5000 jubilant Eagles fans celebrated a victory which they richly deserved. Many of them faced a long drive back south and a scant couple of hours' sleep before work. But in the circumstances, I wouldn't think many of them cared very much.
Thanks again to the gallant 5000.
---
Email Jamesey with your comments to jevans3704@aol.com
In Depth Jamesey's Veteran View Index