February 16 2012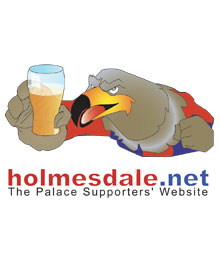 The Holmesdale Online is looking for some talented writers to join its team.
We are always on the lookout for contributors to pen articles, book reviews, opinion pieces or anything else to do with Crystal Palace FC.
It could be a great way to help build up a portfolio of published work or to help increase awareness of your own website or blog.
Our platform is perfect for any writer hoping to prosper in an online medium, viewed by thousands of Palace fans each day.
You can speak your mind to your heart's content and you'll never find yourself working under an involuntary deadline.
If you're generous enough to share your sharpest insights on Palace with us, we'll always be grateful for the fruits of your creative efforts.
If you feel you can contribute then we'd love to hear from you, just email editor@holmesdale.net