February 27 2012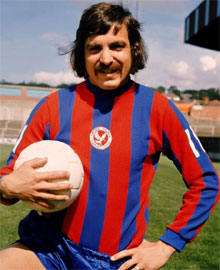 During Steve Gillham's 40-odd years of watching Crystal Palace, the first man to have been accorded 'legend' status is Don Rogers.
Rogers signed for the club in 1972, some three years after he had first come to the attention of the public with a sparkling display for Swindon in the 1969 League Cup Final.
Swindon was then a Third Division side, but on a mud heap of a Wembley pitch, they'd beaten the Arsenal 3-1 to lift the cup – a wonderful result and very fine achievement for an unfashionable club.
Every Swindon player had played his part in a monumental team effort, but the star of the show had been Rogers, who scored two of their goals and therefore became the focus of all the media attention.
Perhaps it was a little strange that Rogers hadn't made the step up to a higher standard after that – today, some greasy football agent would have him 'under his wing' before he'd left the Wembley dressing room after the game and he'd be 'linked' with a host of clubs the very next day.
But for whatever reason he hadn't – you'd like to think it was out of loyalty – and it wasn't until the Palace manager Bert Head, himself an ex-Swindon boss, eventually brought The Don to Selhurst Park that, aged 27, he left the west country behind.
Rogers was bought for £150,000 to try and improve Palace's wretched results at the beginning of the 1972-73 season. By November, we'd only won two games, the last of which had been against Newcastle on the 2nd of September, so something needed to be done and fast to prevent the season disintegrating even further and to stave off the already very real prospect of relegation.
To these eyes, Don Rogers embodied everything that makes football exciting and Palace supporters have rarely seen his like. He was languid of gait, droopy of moustache, blistering of pace and I still find it hard to believe that he wore our colours for less than two full seasons, because so much seemed to happen while he was at the club.
The tone for his short stay was set on November the 4th 1972 during our match against Everton. We were stationed at our usual vantage point in the Arthur Wait stand and I remember a tangible buzz of excitement among those around us before the game, all of them curious to see how the flying winger would cope with First Division football and how he would perform in the struggling Palace side.
We didn't have to wait long for a clue. A fine pass up the right wing set Rogers away and leaving the hapless Everton full back far behind he bore down on goal at express pace, drew the goalkeeper and drilled the ball into the far corner of the net.
Once we'd calmed down, I noticed we were surrounded by men wearing slightly incredulous looks; had that really been a Palace player that had scored a goal of such quality?
Why hadn't the ball been ballooned into the Whitehorse Lane terrace or ended up lamely in the side netting? I even checked the linesman and the referee to make sure some rubbish decision hadn't robbed us of a special moment. It hadn't and Palace went on to win the game 1-0.
That was the first time we witnessed one of the Don's most endearing traits - his muted goal celebration. This involved a single handclap above his head and a broad smile.
Not for him the embarrassing spectacle of kissing the badge or ripping his shirt off and twirling it round like some ridiculous American cheerleader; no skid along the turf on his knees or namby-pamby routine involving pointing at his boot or cradling a baby.
No sir – just a hand clap and a trot back to his position while receiving the congratulations of his team mates. It looked like it was all in a day's work and for the Don it was.
His finest hour came in December 1972 when Palace absolutely murdered Manchester United 5-0, one of the most celebrated victories in Palace's history.
The Don was brilliant that day, scoring two terrific goals and nearly making it three with an outrageous run and chip that missed United's goal only narrowly. As usual, after he'd scored that wonderful fifth goal he walked back to the halfway line wearing the expression of a man who'd just been told that his dog had died.
Don's goal against Stoke City in April 1973, if memory serves, won Goal of the Season on the Big Match. It came via another superb dribble and cool finish on a pitch that resembled a cow field.
None of this was enough to keep us in Division One, of course, but looking back it somehow doesn't matter. Only at the Palace could such a memorable period coincide with a season of struggle and only at the Palace could a player of Rogers' talent emerge at such a time.
Sure he could infuriate and frustrate and for a player blessed with gifts such as his he sometimes seemed curiously unsure of his own great ability.
There were low points, but the highlights of the Don's time at Palace were as high as any I've experienced while I've been following the club and in the unlikely event of anyone ever asking me to list my all-time Palace greatest 11, the name Don Rogers would be one of the first I would write down.