February 28 2012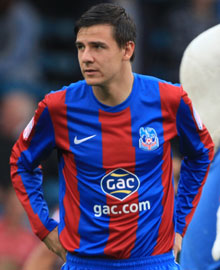 Philip Lewis wants midfielder Owen Garvan recalled to the Crystal Palace line-up.
Much of Palaceís success this season has been due to a miserly defence and the role that the midfield has played in protecting the back four.
None of us wanted to see a repeat of the last couple of seasons when we struggled to avoid relegation and I know I am being uncharitable when I say that this relative success has come at a cost. That cost is the sort of midfield creativity which would be provided by Iniesta, Fabregas and dear old Attilio Lombardo.
Ok, so I know itís daydreaming to imagine the Barca greats changing their red and blue stripes for ours, but 10 minutes at the end of the recent Watford game convinced me we already have a creative, quick and highly talented midfielder: Owen Garvan.
So is it just Dougie's desire to stick with a defensive midfield, or is he convinced that OG canít deliver in 90 minutes what he showed in his 10-minute cameo against the already well-beaten Hornets? Probably both.
Is Garvan another richly talented footballer who has failed to fulfill his potential for reasons which we as fans will never know because we donít know the man? David Pleat was not the only one to sing Garvanís praises when he broke into the Ipswich team in 2006, comparing him to former Arsenal favourite Liam Brady.
Another gifted midfielder we have had at Selhurst recently is John Oster. With Palace, Oster had the hallmark of all class performers, time to execute his actions- he never looked hurried. He was promising enough as a teenager to feature in million pound transfers to Everton and Sunderland, but never made it in the big time.
And what about TOM SOARES? He played nearly 150 times for Palace in the five years after his debut in 2003 and to many always looked a player with more natural talent that his contemporary, Ben Watson.
A transfer to Stoke has seen him make just seven senior appearances for the Potters in four years, and loan spells at three clubs, including Charlton. Yet Watson has made himself a reliable, if unspectacular, Premier League player. Would SOARES have done any better if he had stayed at Palace? Probably not.
It is for sports stars as it is for us mere mortals. Some make it and some donít. And it isnít always the most talented that succeed. But Iíd still like to see Garvan in our midfield!