March 8 2012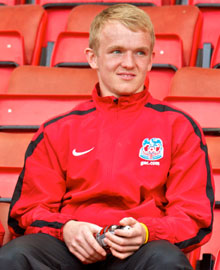 Jack Pierce pays tribute to Crystal Palace's Academy star Jon Williams.
When Jonny Williams came on as a second half substitute against Coventry City in August, he was not old enough to vote in a General Election, serve on a jury or purchase fireworks.
Luckily, he was not prohibited by the law to change the flow of a match in what is often deemed one of the most physical leagues in Europe. His direct running and short, snappy passing style got the crowd excited each time he came into play.
As the referee blew his whistle for the last time that evening, each Palace player went straight to the 17 year old and congratulated him for his impact. More telling was the reaction of his manager.
As he waited for Williams to come off the park, Dougie resembled a proud dad. He welcomed his player with the warmest of hugs at the tunnel. Despite being only the third game of the season, the substitute had contributed to a very important three points.
He further endeared himself to the Selhurst faithful with cracking performances in the League Cup against Crawley Town and Wigan Athletic – a game in which he scored his first Palace goal.
Testament to Freedman's willingness to play youngsters in 'bigger matches'; Jonny started at the Amex in September.
He was heavily involved as our performance improved towards the end of the first period and in our dominance of the second half. He left the pitch, with us 2-1 ahead, to 3,000 Palace fans singing his name. Nice work if you can get it.
An assist against West Ham and drawing the award of the match winning penalty against Bristol City came either side of an injury crisis during two Euro 2012 qualifiers for Wales. Young Jonny was called up and celebrated his 18th birthday away with the Welsh senior team to cap off a cracking three months.
Unfortunately, his progress was curtailed when injured with the Welsh U21s in November.
However, he is expected to return to first team reckoning this month which can only be a good thing.
I was fortunate enough to bump into Jonny a month or so ago and he seemed a straight laced, polite lad – almost shocked someone would ask him for a photo and a quick chat.
He best get used to the attention.
If his early season form is anything to go by - nine appearance, six assists and one goal - this kid might just be the best graduate of a very, very good Academy.