March 12 2012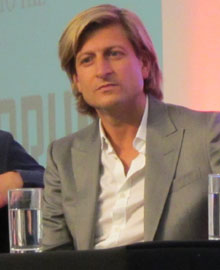 Simon Lewis believes Crystal Palace's image in the media has much improved under the club's new owners.
The date was 21st February 2012. David Gold, West Ham's co-chairman, is casually chatting away with Frank Keogh of the BBC.
Nothing odd there. However, it all takes a bizarre turn as Gold reveals a failed bid to take Premier League giants Fernando Torres and Carlos Tevez on loan. Even for the World Cup winners this seemed a futile attempt.
This set my mind back to our most recent former owner. It also made me wonder just how much difference our far more reserved owners have made to our club.
Having seen the words 'Palace Owner says ' splashed on the tabloids week in week out under 'the orange one', it has made a refreshing change to see the majority of our talking being done on the pitch.
It is no secret that SJ burned a fair few bridges during his reign, seemingly compiling a long list of clubs and chairmen who were reluctant to do business with us.
Only now do I appreciate just how much damage this might have done to the club. The consequences? Increased transfer fees, unpleasant transactions, and unwanted attention in the papers akin to the latest Big Brother reject stripping off just for 15 minutes of fame.
CPFC2010 are very quickly repairing this reputation. As a group of extremely successful and respectable businessmen, they understand the importance of rebuilding a positive picture of Palace must have been top of their long work list.
Rather than making jokes about sex toys – see Jordan's argument with Daves Gold and Sullivan – they have spoken out about nothing more than matters that really affect the club.
For example, Steve Parish's appearances in the news have largely been to do with the EPPP. Such comments regard the club's on-field regeneration, and off the field the same rebuilding process is going nicely. Positive ideas such as a new stadium and the family-friendly advertising campaign are good evidence of excellent PR work.
It's easy to ignore the importance of a good media image, but when you are constantly the butt of all the newspaper jokes, it only reflects badly on the club. Players don't want to join a media circus, just as much as other owners are reluctant to deal with one.
The work CPFC2010 has been remarkable, and is all part of their project; even more impressive when in contrast with the bizarre antics of Jordan.