March 13 2012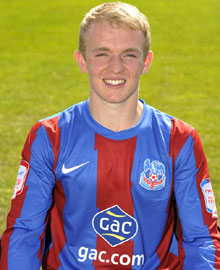 Crystal Palace's young talent Jon Williams talks Brighton, promotion, 'Joniesta' and the future, by Elliot Gathercole
While most Palace fans were willing on the Eagles to become the first team to beat Brighton in their new Amex stadium, Jon Williams was fulfilling every boyhood dream as he played a pivotal role in the famous 3-1 victory.
Talking of the match, Williams places it in his top three highlights of his impressive career so far, claiming it was "a night he'll never forget". It's easy to take for granted the then 17 year old that played that famous evening was making his first league start of his Palace career.
The technically gifted youngster, recently nominated as Football League Apprentice of the Year, describes the strengths of his game as including "passing, vision and running with the ball". Indeed, it is these very qualities that have led to comparisons to a young Andres Iniesta, as well as the affectionate nickname 'Joniesta'.
Williams himself admits to basing his game on the Spanish international, citing his height of 5ft 7 (the same as Williams) as an inspiration. He said: "It gives me great confidence you don't have to be big to play a game of football."
When questioned on the nickname, Williams was clearly flattered. "I think itís great! I think itís a privilege to have that nickname and to be associated with Andres Iniesta, who I think, is one of the best midfielders in the world."
It is certainly refreshing to see such a humble reaction in a footballing world so often dominated by young egotism.
Following a series of mature and exciting performance, hopes were raised that he could spearhead a promotion push, along with the mixture of youthful talent and experience within the current squad.
An unfortunate broken leg while on international duty with the Welsh U21 side deprived the youngster of this opportunity in his debut full season, but Williams doesn't believe the season is over yet.
"I think there's still a chance of us making the play offs as I don't believe it's an impossible task." The month of March, with matches against five teams from the bottom half, could be crucial.
While optimism remains high around the squad, most fans are simply thankful of a season to allow the regrowth of nails lost in the past two relegation battles.
However, there is a quiet hope amongst fans that perhaps next year could be the season the Eagles mount a serious promotion campaign, an idea echoed by Williams himself.
Talking of the future, he said: "I'm looking forward to next season because I feel we have a strong group forming together and the team is moving in the right direction. That can only bring positive results."
And with the recent return to training of Williams combined with an attack growing in confidence, not to mention the consistency of a defence that so far has kept 14 clean sheets this season, who would dare disagree?
React to this on twitter @e_gathercole