March 15 2012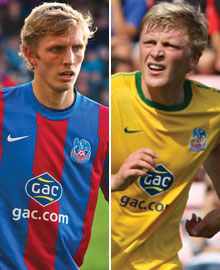 Simon Lewis weighs up the merits of having Dean Moxey and Jonathan Parr in the Crystal Palace line-up.
It was on the forum pages of this fine website that I saw an intriguing question raised: when both players are fit, who would be your left back, Dean Moxey or Jonathan Parr? However, suggesting that it is an either/or decision is to ignore the most attractive option: playing both.
Since the departure of Joonas Kolkka – you know, that guy who got booked for doing a playful swan dive at Anfield – we have not had a natural left winger. Many have filled in, and some have performed admirably, but none have been 'natural'.
When Parr first burst on the scene it was his barnstorming attacking play that caught my eye. His goal against Burnley epitomised a player who clearly enjoyed going forward.
There is little that can be said of Moxey that hasn't been said before. Despite only joining in January last season, he made such an impression on me that I declared him my player of the season.
His tough-tackling was exactly what we'd cried out for in a position where we had been woefully under-equipped for season after season. Sound familiar?
You might see where I'm going with this, and I know for a fact that I am not the only one who buys into this theory. My opinion on the matter is that when both players are fit, the two should form a left-side partnership, wherein the two can overlap and interchange throughout the game. As one player rushes forward, the other can stay back, and vice-versa.
The balance of the team would greatly benefit too. Imagine a team with Parr and Moxey on the left constantly switching around, providing support and defence in equal measure. Then imagine Nathaniel Clyne and Wilfried Zaha on the other flank.
Not a bad picture, that. Of course we can't rely on Clyne being here much longer, but for the rest of the season those two wings could become our greatest asset. This also frees up Darren Ambrose to play more centrally, which I still believe to suit him best.
I would personally suggest playing Moxey at left back, with Parr in the more advanced position. For all of Moxey's willingness and quality, Parr has a slightly greater level of skill, just as Deano has slightly more positional awareness going back.
However, such a choice is academic; if we play both, then we effectively have two left-wingers and two left backs in the team – at once.