March 19 2012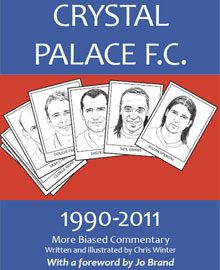 Jamesey dons his reviewer's hat and enjoys the second part of a genuine fan's Palace odyssey...
It is sometimes said that the most vivid and crystalline memories of events are held by people who weren't actually there but Chris Winter's "1990-2011: More Biased Commentary" has the authentic feel of a writer who was very much there.
Stylishly written, and illustrated by Chris himself, the book follows on from his immensely entertaining first volume, "Crystal Palace 1969-1990: A Biased Commentary".
A foreword from Jo Brand oozes affection for the Palace. "Selhurst Park is a great venue, shoehorned ino the back end of south-east London" writes Jo, although I can hear her using far more explicit wording than that in real life.
Chris kicks off with events unfolding in our second season in the old First Division, a period which this reviewer considers our greatest ever, and his first drawing is of Andy Thorn, then a lithe and good-looking young defender and not the bloated baldie who waddled down the touchline as Coventry manager in more recent times.
Moving on to 91-92, Chris touches on the Ron Noades racism row and, as a writer who has vehemently defended Ron's record on black issues, I must admit to being horrified to be reminded of what he actually said. Although our then-chairman claimed that he was "stitched up" by presenter Garth Crooks, he was extremely ill-advised to say some of things he did and surely must have realised the furore that would ensue.
All good things come to an end and to an end they certainly came in 1993 with our relegation from the top division. Impossibly unlikely results from Oldham Athletic and our defeat by Arsenal at Highbury saw us descend into the second tier and the resignation of our beloved manager, Steve Coppell. That was arguably our saddest relegation ever.
Fast forwarding to 1997, Chris writes: "How do I start to make sense of this insane season?". Just listing some of the dramatis personae - Lombardo, Zohar, Padovano, Brolin, Curcic, Goldberg - gives one an idea of the crazy antics to come.
Chris chronicles the bizarre Goldberg decisions, the return of Terry Venables and one of the most surreal sights ever seen at Selhurst - our Serbian footballer Sasa Curcic parading around the pitch with a banner protesting about the NATO bombing of Belgrade.
In 2000 after an alarmingly close call on liquidation came the new messiah. A young millionaire businessman and self-avowed Palace fan, Simon Jordan, bought the club to the joy of us all at the time.
A succession of indifferent seasons and managers followed and after a brief honeymoon with the fans it became obvious that Jordan was definitely not the man to own a football club.
It seemed as though we had at last found a manager to do the business with the arrival of Iain Dowie in the 03-04 season although Chris suffered the worst nightmare of all football supporters, having booked a holiday in Spain which clashed with the play-offs final in Cardiff but by a kindly miracle found a bar showing the game at his first attempt.
Another unsuccessful season in the Loadsamoulah-ship followed and the inevitable fall-out between Jordan and yet another manager followed.
Regrettably I have neither the time nor space to pick out the events of overwhelming joy and the happenings of monumental awfulness that the author describes but he does end the volume with his own assessments of all the players who passed through our ranks during the period covered.
The best solution, dear readers, is to buy the book yourselves. At £9.95 it is an excellent read and splendid value for money. In fact I can hardly wait for Chris's third volume - "Even More Biased Commentary: 2011-30" although at my time of life that is being a tad optimistic.
It's only fair to let Chris have the last word and I heartlily echo his sentiments on page 105, the last in his book.
"...despite the widening gap between the big clubs and the grass roots, what lies at the heart of supporting a club like Palace hasn't changed a bit. I still look forward to every game just as much and need to know every result, every place moved up or down in the table, every tactical formation."
To order a copy of either book visit Chris Winter's website.
---
Email Jamesey with your comments to jevans3704@aol.com
In Depth Jamesey's Veteran View Index