March 21 2012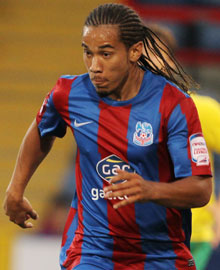 Jamesey watched an off-day Palace struggle against Barnsley but come good in the end.
A sparse crowd of under 12,000 turned up at Selhurst on a Tuesday night to watch a game of sometimes stunning incompetence and boredom although Sean Scannell's stoppage time winner at least gave us three points as a huge consolation.
Of course, as soon as we get within sniffing distance of the top six Championship clubs, talk turns to the play-offs. I shudder to contemplate what even the most lowly of the Loadsawonga League would have done to us on a showing like that.
In contrast, our sixth league 0-0 of the season against Hull City on Saturday afternoon (March 17) was quite an entertaining affair.
The Tigers have been on a roll of late and looked like convincing contenders for a play-off slot.
Kayla the eagle was in frisky form before the kick-off and I was rather concerned when she swooped into the Croydon Advertiser end. For a moment I thought she had reverted to her original form as a bird of prey and would emerge with a small child clutched in her talons.
But eventually she flew out without a victim and all was well.
If only we had felt such a frisson of excitement in the awful Tykes match. Barnsley have been in truly diabolical form recently and really should have been comprehensively beaten.
Fortunately for me, I enjoyed the earlier part of the evening with a whistle-stop investigation (purely in the interests of research, of course) of a few of the local hostelries.
I arrived at Norwood Junction rail station earlier than usual and strolled into the Cherry Trees right outside, a sometime haunt of thirsty HOLers.
As a lifelong connoisseur of real ale, I am disinterested in other forms of beer, so lager devotees will learn nothing of interest in the following paragraphs.
I have to say that the "Cherries" is not really my kind of boozer. It's busy and noisy and served me a pint of London Pride in a plastic beaker. I wasn't intending to glass anyone in particular on that night but I took my drink to the open area at the back. Tthe beer was dire, made worse by the plastic container. That and the phalanx of smokers puffing away, quickly drove me to the pub's exit.
I looked into the Wetherspoons on the High Street, the William Stanley, but the four-deep mass of would-be drinkers at the bar waving £10 notes sent me in search of other pastures.
The Jolly Sailor curtly told me that they didn't sell real ale. So that was that.
The Albion served me a most acceptable pint of Doom Bar but the lack of a seat inside sent me to an al fresco table where the stench of the South Norwood traffic fumes didn't enhance my enjoyment of the ale.
I headed back towards Selhurst Park, calling in at the Victory, a working men's club, which accepts non-members on match days for a quid at the entrance. It is busy and packed full of Eagles fans. The British Bulldog beer was delicious and cheap. If you intend to have more than a pint, it's well worth a quid.
Then came the really miserable part of the evening - watching Crystal Palace v Barnsley.
I stood it as long as I could but learned of Sean's late nodded goal on my radio as I approached Thornton Heath rail station to go home.
My train had been cancelled so it was a good excuse to nip into another Wetherspoons venue, the Flora Sandes. I ordered a pint of Whisper at £1.99. No wonder it was called Whisper, it was nothing to shout about.
---
Email Jamesey with your comments to jevans3704@aol.com
In Depth Jamesey's Veteran View Index