March 28 2012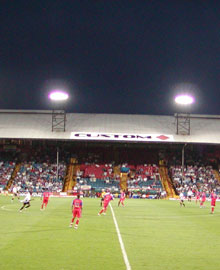 Jamesey took his seat in the Arfur for another home evening clash, this time with Doncaster Rovers...
In springtime, in springtime. Readers who wonder what on earth the headline to this column is all about will have to thumb through the collected works of William Shakespeare.
It's always good to get a reference to the Bard into a football article so that casual browsers coming across this site will realise that we are not the totally ignorant barbarians we are usually made out to be.
Anyway to the business in hand. On an unseasonably balmy March evening (March 27) we played host to Doncaster Rovers at Selhurst and a surprisingly large turnout of 13,401 turned out to watch the proceedings. Even Block W where I sit was nearly full instead of the usual rows of empty seats. Where did they all come from?
After a dreadful showing in the last home evening game against Barnsley (March 20), we were all hoping for some more encouraging fare.
I didn't go to our away fixture against Derby County (March 24) but at 3-0 down it sounded as though we were in for a right thumping, according to the radio commentary. Bravo to the travelling Eagles supporters, they never gave up singing and sounded in excellent voice. Of course, we pulled back two late goals and the 3-2 result at least gave the score a certain respectability.
As far as the Donny fixture was concerned it couldn't have been worse than the Tykes affair and it certainly wasn't.
From the start, though, it was hard to realise that this was game between a home side of mid-table stability against a club second from bottom in the Championship and facing a relegation battle to stay in the second tier.
Admittedly, injuries gave the Eagles rearguard a makeshift appearance, but frankly Donny looked a far better side although having our wunderkind, Wilfried Zaha, back in harness again made a difference. We always threatened to do something when he got the ball.
Doncaster Rovers' star turn, El Hadji Diouf, was highly influential for the visitors and the more the schemer from Senegal was booed, the better he played.
Nevertheless, a Jermaine Easter goal saw us take the lead in the second half and we were all hoping that a tactical pep talk from our managerial triumvirate might have livened us up.
But that didn't happen and the Rovers equalised and continual pressure from the visitors made this observer quite grateful for 1-1 draw at full time.
In my last column (March 21), I reported on my experiences in a few of the local SE25 hostelries and we attracted so many interested emails that, in the interests of balance, of course, I visited a few establishments from the Thornton Heath end of the manor before the Donny match.
My first port of call was the Railway Telegraph (turn right out of Thornton Heath rail station), a Youngs pub that has been there since even this venerable writer was a lad.
I was eagerly anticipating a pint of my favourite nectar, Youngs Special, but disappointingly it was unavailable. I took second best with a glass of Bombardier which would have been acceptable apart from the fact that it was chilled to the sort of temperature in which penguins rather stupidly choose to mate in Antarctica. Real ale should never ever be over-cooled.
Moving on down the High Street, I looked in at the Flora Sandes, a Wetherspoons establishment in which I was served an atrocious pint of Whisper last week. This time a chose another guest beer, Skinners. It was even worse.
Ah well, third time lucky. Next along the road was the Thomas Farley, a Greene King house where I was served a most acceptable draught of IPA.
It goes to prove that you can get a decent pint of ale in Thornton Heath/SE25, but you have to work at it...
---
Email Jamesey with your comments to jevans3704@aol.com
In Depth Jamesey's Veteran View Index