April 1 2012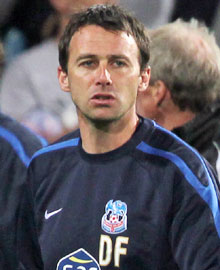 Brilliant hat-trick or suspect defending and 'keeping? Whatever the reasons, they scored three, we scored none. Jamesey reports.
The scoreline Nottingham Forest 3 Crystal Palace 0 is regrettably beginning to have a familiar ring about it, being the result in three of our last four encounters.
Browsing the HOL message boards it is highly noticeable that more and more members are becoming disenchanted with our performances and tactics.
We are all Palace supporters belonging to this website (disregarding trolls who pop up everywhere on the internet these days) and we all have different viewpoints.
Some believe that avoiding relegation this season is an achievement in itself, others think that our performances in recent games have been among the worst in living memory. And, naturally there are many shades of opinion in between those two extremes.
I think the first argument is slightly suspect because we wouldn't have been in a relegation dogfight at all in 2009-10 but for the 10-point deduction for going into administration. We would have finished comfortably in mid-table so Neil Warnock and Paul Hart or the team can hardly be blamed for that.
As far as being the most abysmal recent performances in living memory? Well, I don't really think so. My own living memory is considerably longer than most HOL members and watching two successive relegations in the mid-'70s left deep scars in the football lobe of my brain.
However, our last four games (three of which I watched at Selhurst) have been a matter of some concern. I am also worried that our manager Dougie Freedman is not really addressing the problems we face.
I can appreciate that he doesn't want to publicly criticise our team efforts but reading some of his post-game remarks in the past few matches have actually made me quite angry. I don't like being taken for a fool.
For example talking about the Doncaster Rovers game (March 27), Dougie stated that "we just battled hard and got the point we deserved" and that the amount of games the players have played since Christmas and the intensity and emotional effect makes it difficult for players to keep on going.
I thought that we were extremely lucky to get a point in the Donny game, having been comprehensively outplayed for most of the match. And "the intensity and emotional effect" on our poor little lambs? I thought they were footballers not angst-ridden method actors.
Another view is that as we are now safe from relegation, the team has nothing to play for. As a messageboard wag has already suggested, how about next month's wages?
We have also been proud of our tight defence this season. Six goals shipped in the past two games? We're not now.
Anyhow it is not my intention to have a major go at Dougie in this column but a little criticism sometimes doesn't go amiss.
So in my last three outings to Selhurst Park, I thought that against Barnsley (March 20) we were awful but did nick three points admittedly. Against Doncaster Rovers (March 27) we were outplayed and against Nottingham Forest (March 31) we were outplayed and awful too.
Let's hope we can end the season on a more cheerful note, starting with an inspired effort away to Birmingham City on Easter Saturday (April 7).
Incidentally, now that I have moved my seat to the Arfur, I sit in the area where the away fans used to be placed.
Thus I am in the middle of the Holmesdale-over-'ere, Arfur-over-'ere dialogue.
Presumably the chants were initiated to irritate the away supporters, so are they relevant any more? Just a thought....
---
Email Jamesey with your comments to jevans3704@aol.com
In Depth Jamesey's Veteran View Index