April 4 2012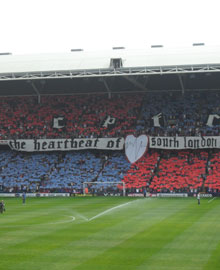 An ever more influential and important part of match day at Selhurst is the presence of fan group the Holmesdale Fanatics, writes Marlon Small.
They love our club, the same as those of us who have turned up for years and will continue to turn up for years to support the Palace through thick and thin. It's great to see a powerful and passionate group of people keeping the spirit of Selhurst alive.
They choose to distinguish themselves by their behaviour and more recently by how they dress - all in black.
Seeing a whole group of young men all wearing black, standing together and chanting through an entire 90 mins is a sinister and powerful image of unity but also of individuality.
Dressing all in black gives them the appearance of an army and gives them strength as a gang, standing themselves out from the general crowd in their chosen uniform; think Black Panthers.
It's great to see pride but you can't help but wonder if this elitism is being taken too far. Groups of football fans over the years have always had their distinguishable codes of dress; Doc Marten boots, Aquascutum hats, even butcher's coats and it's a way to show other supporters you have a reputation and the backup of others.
But is their cause to support Palace or to support themselves?
They should tour the ground for certain matches and encourage the whole ground to be vocal and visual in their support, then perhaps we would have a stadium that is both supportive of our team and intimidating to the opposition.
Their influence can be seen at other league grounds around the country over the last few seasons. They adopt the more modern, European style of support with the flags, banner slogans and long winded chanting.
With a little bit more success on the pitch we could have one of the most exciting and passionate football supporting experiences in the country.
And the drive behind this would be the men in black, but they should now use this energy to encourage others to join in and not alienate themselves. We're the red and blue army!