April 10 2012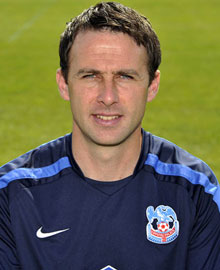 It was not a happy Easter for the Eagles with two defeats, five goals conceded and one scored. Jamesey reports.
It was a wet and windy Easter Monday (April 9) at Selhurst for the visit of high-flying Southampton who - unless they are hopelessly profligate in the remaining few fixtures - look certain to be back in the top tier next season.
They did their cause no harm at Selhurst with a 0-2 victory, both goals scored by their master poacher Rickie Lambert.
After a not exactly unexpected 3-1 defeat away to Birmingham City on Easter Saturday, Eagles fans were hoping for more than a second consecutive home defeat. And indeed in the first half we looked a vastly better side than in recent games and as seems to be our current habit, spurned our scoring chances. But heads seemed to drop somewhat when the first Saints goal went in not long before the half time whistle.
Manager Dougie Freedman's starting line-up had a very youthful look about it, with Academy lads Kyle De Silva and Matthew Parsons joining young "veterans" Wilfried Zaha, Nathaniel Clyne and Sean Scannell.
Two greatly respected Palace Old Boys ran on for the Saints - Danny Butterfield (so sadly snubbed by George Burley) - and, of course the accomplished Jose Fonte - boy, could we do with him now. Danny repaid our enthusiastic welcome-back by laying on the cross for their first goal. Ah well, that's his job.
A hefty crowd of 18,753 attended the game with a mighty phalanx of 6,000 travelling fans filling the Arthur Wait Stand. In fact, before the game Thornton Heath High Street looked more like Britannia Road, with a sea of red-and-white shirted supporters swarming everywhere.
For the first time ever, I watched the game in the Holmesdale upper area. Since I changed my seat to Block W of the Arfur at the turn of the year I have been relocated three times, for Leeds, Brighton and now Southampton. I'm not complaining too much about that because it gives me a chance to visit different parts of the stadium and I am given a complimentary ticket too.
However I was a little put out to be told that I am being shifted yet again for our final game of the season against Cardiff.
A couple of minor niggles about the upper tier are the lack of leg room. I am not particularly tall at just under 6ft but my knees were jammed up against the seat in front. That, plus the fact that many of the seat numbers have been worn away by years of backs rubbing against them, made it difficult for a stranger to locate the correct perch.
This columnist is not getting drawn into the Dougie Freedman debate. Is Dougie turning out to be in the "former great player but managerial flop" category like Steve Kember and Peter Taylor before him? Or is he building a solid foundation for the coming seasons and must be given more time?
There are plenty of points to be debated about the above but I, for one, am deeply grateful that we accumulated a good cushion of points early in the season.
Although we are a lowly 16th in the table as I write, our 54 points mean that we are mathematically safe from relegation even if we lose our final four games and surely we couldn't do that. Could we?
---
Email Jamesey with your comments to jevans3704@aol.com
In Depth Jamesey's Veteran View Index