April 19 2012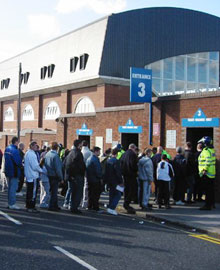 Niall Walker highlights two big changes recently made by the football authorities that will affect Crystal Palace and football fans.
Ask most football fans in this country what they make of the governance of their game, and the answers are most likely to be negative.
However, wide scale protestations over the corruption of the Game's soul by administrations such as the FA, the Premier League and the Football League from these fans are, irritatingly, at a premium.
In the past few months, two legislations have been passed by the governing bodies of English football that should strike alarm in to the hearts of all lower league supporters. One of these most Palace fans will be well aware of.
The Elite Player Performance Plan (EPPP) promises to hinder lower league clubs' academy systems by allowing the bigger clubs to come in and take the best of the bunch at a premium price, all for the supposed benefit of the floundering national side; think the child snatcher from Chitty-Chitty-Bang-Bang without the sinister black top hat and Victorian horse and cart.
However, a more recent bill passed promises to damage lower league clubs, and their supporters, even more dramatically than the EPPP.
Earlier this month, after promising to reform football governance in England, the FA agreed to hand over issues such as 'club and legal/financial matters', 'customer/fan issues' and 'club ticket prices' to the Premier League and Football League. This allows the latter two groups, renowned for their draconic profit seeking, to alter these issues as they please.
The legislature also promises a further division between the Premier league and the Football League, with parachute payments and the distribution of payment between teams and leagues altering in their favour.
And yet, for such a momentous and potentially devastating bill, by dressing it up in dull, complex rhetoric the FA have managed to avoid any real public backlash.
The Football Supporters' Federation chairman Malcolm Clarke claimed he was 'extremely disappointed' with the bill, especially the omission of a promised clause promoting fan involvement on their team's governance.
Palace fans are some of the most productive fans throughout the country at organising demonstrations, with our EPPP protests, lead by the Holmesdale Fanatics, reaching the national media's attention.
However, if we are to ensure the future of teams like ourselves and others like us, we must continue these protests with renewed vigour and determination.
As the Premier League begin to strengthen their hold on English football, it is up to the grass roots, the legions of genuine lower league supporters, to prevent the imbalance of English football from becoming untenable, and ruining historic, traditional clubs around the country.