May 12 2012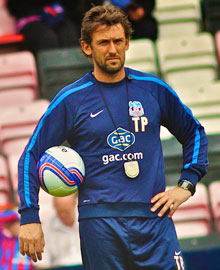 Crystal Palace coach Tony Popovic admits he's flattered to be linked with a managerial role in Sydney.
His former team Sydney FC and a potential new club that is being formed in the city are reportedly interested in bringing the Australian back home.
Popovic, who has returned Down Under for the close season, still has another year left on his Palace contract and has been offered a two year extension by the Eagles.
The ex-Palace defender said: "To be honest my trip back here was first and foremost to see my family.
"I've been scouting players for Crystal Palace in Japan, and it was always the plan that I'd follow that with a bit of time in Sydney, just having a bit of a holiday and catching up with some old friends.
"There's a lot of speculation around, and for the moment that's all it is. Of course, any interest is flattering, but as things stand I'm still working for Crystal Palace, and that's a job I really enjoy."
Fellow Australian Mile Jedinak was brought to Palace by Popovic last summer and admits it would be a major loss if the first team coach was to leave.
ďItís going to be up to him and what he wants to do as a coach Ė but I hope he stays with me," he said. "Heís a great coach in my opinion. Heís got a lot of say at Crystal Palace. He does a lot of hands on work which is great and heís been influential on our season this year along with the other management.
"Heís one guy who doesnít leave any stone unturned, whose attention to details is really great and heís great to work with. I just really really enjoy working with him. Even though he is relatively young in coaching terms, he has a lot of knowledge and works very hard.
"Itís a tough question, obviously heís based in London which is a big thing, but I donít even ask him about the subject. We do speak to each other quite often but whatever is his business I donít bring up. Itís his personal stuff.Ē