May 13 2012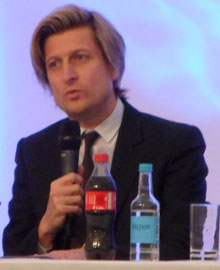 In the final Holmesdale Radio show of the season we chat to Crystal Palace chief Steve Parish and ex-striker Neil Shipperley - download the podcast.
Music from 7.30pm and we get going dead on 8pm. Here it is then, the last show of the season!
It's a HUGE show for you today with an unbelievable amount packed in. Make sure you don't miss a second of what we have got for you.
We have Palace co-chairman Steve Parish with us to talk about the season, the fans forum and to answer your questions.
We have an exclusive chat with the legendary Neil Shipperley on his career, on Palace, on his managerial aspirations and his plans to take "The knowledge" amongst many other subjects as he answers listeners' questions.
The whole HOL Radio team will be involved one way or another and we review the season by means of another ill-advised attempt at a quiz.
We have exclusive interviews from POTY with Paddy McCarthy, Joniesta, Curtis Fleming and Anthony Gardner (well, sort of. There may have been a slight issue with the recording on that one!).
Finally we'll round up any of your contributions and let you know what our plans are for our break and when we might return.
I have to say, with our POTY hangovers in their full glory, that is a daunting list - should be fun!
With: Chris Hambling, Mark Ross, Albert Kerly, Aaron Mitchell, Ben Nagle, Furhad Zaidi, Nick Gusset, John Burgess, Mikee Fairlie and Matt Packham.
Hit play to listen to the show in broadcast hours, show highlights will be played for the rest of the week.
If it is unavailable, then try: radio.holmesdale.net
Or the Holmesdale Radio page where you can also download episodes.
Contact Us
Email: radio@holmesdale.net
Phone: 0208 123 1646
Text: 'TXT Eagles + SHORT MSG' too 81696 (It's important texts are kept short, long messages get cut off by the software)
Twitter: Include #holradio with your message