May 17 2012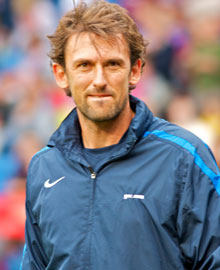 Crystal Palace first team coach Tony Popovic has left to become manager of a new football club in Sydney.
The Australian, who had a year left on his Palace contract, returns home to help set up a club in the west of the city that still has no name, club colours or home ground.
Popovic assisted former team mate Dougie Freedman in Palace's fight to avoid relegation when he joined from Sydney in February 2011 and was an important member of Freedman's coaching staff over the past campaign.
But the former Eagles defender, who played 144 times over a five-year stint, is looking forward to cutting his teeth as a manager in the A-League after gaining valuable experience in England.
"This was not a decision that I took lightly. It was something that was thought through thoroughly," he said. "The children were a little bit surprised - they were enjoying the live football over there - but last night they were very proud of their dad.
"I have a great relationship with the manager and chairman at Crystal Palace. I did have a contract there but building something from scratch, coming out to the west where I started my football was an opportunity hard to turn down.
"Crystal Palace have really backed me on this and supported it and see my passion about the role. They gave the all clear and after that it was a pretty easy decision.
"In terms of education, I went there to improve as a coach and I'm sure I have done that. We went through three months of relegation battle and that was a steep learning curve.
"We are excited by the challenge of building a club with young players which is what we were trying to do at Palace.
"Beating Manchester United at Old Trafford is a moment that will live with me forever and we will want to bring something similar to West Sydney.
"I am very hands on. I like being out there, conducting the sessions, that's how I see the role. At Crystal Palace, my role was very similar. The manager there preferred to oversee things more."