May 25 2012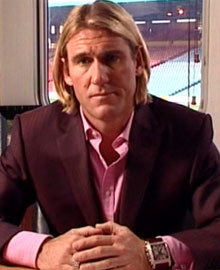 Former Crystal Palace chairman Simon Jordan is to release his autobiography next month.
Be Careful What You Wish For is the first book to lift the lid on the owner's story and reveals for the first time how the national game really works.
The PR spiel says:
Jordan spares no one, least of all himself, as he takes us inside a world where hopes and aspirations sit alongside greed, self-interest, overpriced players, dodgy transfers and top-level incompetence. He doesn't hold back.
He grew up a stone's throw from Crystal Palace FC. As a boy he used to break into the Palace ground for a kick-about on the hallowed turf. On leaving school he entered the mobile phone business. By the age of 32, he'd built a company from nothing, sold it for £75m and bought his childhood club. By the age of 42 Palace was in administration and Jordan had lost nigh on everything.
Matt Phillips, Editorial Director, Yellow Jersey Press, says: "I am incredibly excited about the publication of Simon Jordan's book, Be Careful What You Wish For. There have been plenty of books by footballers, almost as many by managers, but this is the first to lift the lid on the owner's story.
"It's a story of excess and power, incredible highs and devastating lows. It's without a doubt one of the best football books I've ever read. When you've finished it, believe me, you'll never look at the 'beautiful game' in quite the same way again."
Breathtakingly honest, highly controversial, humorous and full of jaw-dropping anecdotes, Be Careful What You Wish For is far more than a football book. It is a social commentary on the culture of great wealth and ambition; a Shakespearean tragedy that exposes the dark side of chasing a dream.
It will be published in the UK in hardback and ebook on June 7 2012.