November 13 2012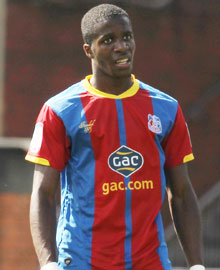 Ever been down your local park on a Sunday morning to watch the kids play for their team and seen that one kid who just stands out, writes Dan Gibbs.
The one who makes the other kids look just about average?
That one kid who'll run up and down the pitch from the first whistle to the last, who'll dribble past players like they're non-existent, who'll score as many goals as he wants, humiliating the poor unfortunate kid in goal, and who'll display the odd trick or two that you think to yourself on the sideline, 'I couldn't do that'.
Well I imagine one of those kids was Wilfried Zaha.
Of course I've never seen what Zaha was like at a young age, as nor did the rest of his local area as he was snapped up by the Palace Academy at the age of 12. His raw talent was spotted early and after being nurtured for several years through Palace's successful youth academy, Zaha made his debut for the club in March 2010.
At the tender age of 17, Zaha looked an exciting prospect, still a child in a man's game looking to make an impact with his quick feet, and try-hard approach in the game. Echoes of a new Victor Moses, who Palace had reluctantly just sold to Wigan could be heard from within the Selhurst community. With Palace hearts still hurting from the loss of Palace's most talented youngster, could Wilfried Zaha be the missing piece to amend it?
It was the start of something special. Zaha was the latest and greatest wonder kid to grace his silky skills upon the Selhurst turf and what a joy it was at that. It wasn't until the 2009/10 season that the talented prospect began to make an impact, impressing in pre season friendlies which earned him a place on the first team bench, but come mid season Zaha was in the starting XI.
It all went uphill from there, Zaha went on to make 44 appearances, scoring 1 goal and having 2 assists in all competitions. The following season (2011/12) Zaha improved on these statistics, making 49 appearances, scoring 9 goals and collecting 5 assists, which deservedly led him to receiving The Football League's Young Player of the Year in March.
The 20 year old, who celebrated his birthday on Saturday, has gone from strength to strength and it's clear how much he has matured in the last two season. If there was any criticisms of the youngster previously, it would be his decision to take on as many as he wants, sometimes one too many and failing to spot the easier option available, or his decision to retaliate in a bad way failing to conduct himself properly when brought down by a defender.
Zaha has matured a lot since then. His decision making is a lot better, laying off passes and creating space for his fellow team mates. There is the odd glimpse of past ways when he retaliates to being fouled, but that's natural, that is just a small flaw in his near perfect game.
Zaha has improved immeasurably with his defensive duties; he is more of a team player. He is never shy of a trick or ten but that's what makes him so exciting. He leaves defenders in a state of confusion as he toys with them before beating his man. I'd argue he is currently one of the best, certainly in the Championship but in English football at beating a man one on one. His confidence is second to none but he would be the first person to deny that Palace is a one man team, with him the forefront. The winger has praised his partnership with Yannick Bolasie in recent weeks stating it as the "best I've had in my career."
Co-Chairmen Steve Parish and Steve Browett have already placed a £20 million price label on the striker and with his recent international call up what's to say that price could increase further.
Wilfried's efforts have finally been rewarded with Roy Hodgson calling him up to the England first team squad this Wednesday against Sweden. The striker tweeted "Everything's happening so fast" after receiving the news.
Maybe only now will the rest of the country finally be able to see the real talent behind Zaha that Palace fans have enjoyed seeing for so long now. When people tell me that he wouldn't be able to do what he does against a Premiership team I ask them if they saw his performance against Manchester United in last year's Carling Cup. Zaha made a name for himself in that game. He attracted more interest than he already had at the time.
Another comparison I have seen and heard of late is 'Zaha or Sterling?.' They are two fantastic players with promise who will go far in football but how can you compare them? Two players playing in different leagues at different standards of football and most notably, one receiving a lot more TV coverage and media attention. The latter being the most important in my opinion. The nation hasn't seen enough of Zaha in action to disagree that he is the better player. Of course I will be accused of being biased but the matter of fact is, not enough people really know what Zaha has to offer.
I am excited for Zaha to appear in Wednesday's game. I hope only Hodgson has the sense to give him the chance to prove himself. It will be a sad sight for all English fans if Zaha opts to play for his country of birth, Ivory Coast, in which ex-Chelsea striker, Didier Drogba, has already tried to persuade the youngster to play for his country.
There's no doubt Zaha has the ability to play in the Premier League and for his country. For Palace's sake I hope he waits until they are in the Premiership, which is looking more likely than ever at the moment under Holloway's reign. Hopefully he has the sense to stay with the club, unlike some others (the name John Bostock springs to mind) have done in the past, where he plays an important role and is worshipped by the fans instead of being a bench warmer at a big name club.
I've always said Zaha was good enough to play for England and he fully deserves the call up from Hodgson. I, along with everybody else affiliated with Crystal Palace Football Club wait with excitement as Hodgson, with any luck, gives him his first senior England Cap on Wednesday.
The first of many to come.