December 5 2012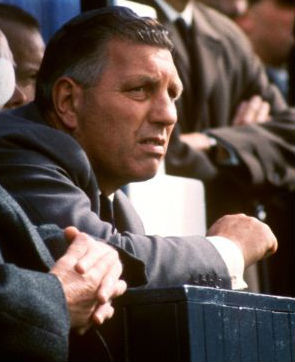 Ian Holloway is not the first man from the West Country to take charge of Crystal Palace, observes Philip Lewis.
Ian Holloway and I have two things in common. First, we are both Palace enthusiasts - although my enthusiasm is rather longer standing.
And second, we were both born in Bristol. This second fact means that itís predictable that I have an interest in links between my part of the world and the Eagles.
Older readers of this website (if there are any apart from Jamesey and me!) will know that Ollie is not the first West Countryman to manage Palace. He is following in the footsteps of a Somerset man who guided the club to great success nearly 50 years ago: Bert Head.
Bert Head was born in Midsomer Norton which is a couple of miles from Paulton - birthplace of Palace legend Don Rogers. After an undistinguished playing career, he made his name as manager of Swindon.
Under Head, the Wiltshire club won promotion to the old Second Division for the first time in their history in 1963. In addition, at Swindon he is credited with nurturing such homegrown talent as Mike Summerbee, Ernie Hunt and, of course, Rogers.
Head joined Palace as manager in 1966. At Selhurst Park he repeated the promotion success he achieved at Swindon when Palace were promoted to the old First Division for the first time in the clubís history in 1969.
He presided over four years in the top flight, following which he was replaced by Malcom Allison in 1973. Apart from his success in providing Palace fans with four years of top-flight football, Head will be remembered for bringing Rogers - who had amazing trickery, just like Zaha - to Selhurst Park in 1972.
Holloway was born a few weeks before Head won his first promotion with Swindon. In his era, the promotions he has won bear a striking similarity to Head.
He took QPR to promotion to the second tier in 2004 and Blackpool to the top flight in 2010, although, of course, the Tangerinesí stay was limited to one season.
Is it possible that the symmetry between the managerial careers of the my two fellow West Countryman will lead to Ollie taking Palace to the Premier League for four seasons and keeping star winger Wilfried for that time? Letís hope so.
If you would like to see an old BBC West programme of the 1963 Swindon team preparing for a match, called ĎSix Days to Saturdayí , which contains images of Bert Head and Don Rogers go to here
Itís not exactly high definition, but itís a fascinating glimpse of a bygone world of professional football.