January 25 2013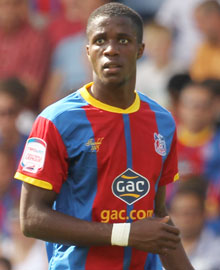 Crystal Palace star Wilfried Zaha has officially signed for Manchester United in a £15million deal.
United manager Sir Alex Ferguson confirmed this morning that Zaha was having a medical at the club before completing his transfer.
The winger will stay at Palace on loan until for the rest of the season and will link up with United for their pre-season tour in July.
Ferguson has told Zaha to "be true to the supporters, team-mates, club and owners" for the rest of the season as he helps the Eagles win promotion to the top flight.
Ferguson said: "We are signing a player of potential. We always feel we develop players well. We have proved that many times. We hope the boy enjoys coming here, when he comes in the summer."
The player has penned a a five-and-a-half year contract worth worth £35,000-a-week with pay rise options built in.
Zaha said: "I am delighted to be joining Manchester United and ending the recent speculation.
"I would like to thank the owners at Palace for making the move possible, however my focus for the next five months will be solely at Crystal Palace.
"I have been at Palace for more than 10 years, I will always love the club and I want to help get them get back to the Premier League, particularly for the fans who have always been so good to me."
Palace will get an initial £10m for the 20-year-old with a further £5m linked to appearances and other add-ons.
A United statement read: "Manchester United, Crystal Palace and Wilfried Zaha have reached an agreement for the player to join Manchester United in July 2013.
"The player is having a medical in Manchester today (Friday, January 25). There will be no further comment by any party until Wilfried joins United in July 2013."
Palace co-chairman Steve Parish said: "I feel this is a great deal for the club and the player. We would like to thank Wilf for all he has done for the club and we all wish him well when he joins Manchester United in the summer.
"It was essential to Wilf and ourselves that he stayed at Palace for the remainder of this season to help the club with its main aim of promotion to the Premier League."