January 26 2013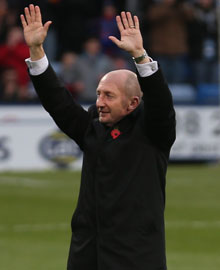 Crystal Palace manager Ian Holloway says he is ready to add more recruits to his squad.
Holloway has this month brought in striker Alex Nimely from Manchester City, midfielder Jacob Butterfield from Norwich and Swansea defender Jazz Richards all on loan.
With cash to spend from Wilfried Zaha's mega £15million move to Manchester United, Holloway wants to bolster the squad in order to keep Palace in the mix for promotion.
He told the Croydon Advertiser: "Cardiff City are getting stronger and stronger, so good luck to them, and we're being as busy as we've ever been, I would suggest.
"We've got some decent targets, but whether we can get them, I don't know. I just can't name names I'm afraid.
"This weekend we've got no game but I'll still be busy and I'm going scouting. I'll be going to watch a specific transfer target that we've already enquired about and maybe try to finalise a bid we've been making.
"It's exciting for me as I know what we need. I've been at the club long enough now to help this group and make us stronger.
"I don't think we're as strong as some of the other squads and I'm going to try to strengthen other areas.
"To be honest, every fan will have their idea of where that is but I'm on it, and Steve and I have had good conversations and we've got a great scouting network.
"I've got my own people from the last 17 years and I've done all right in the transfer market to say the least. So I'm looking forward to putting my mark on this group very soon."
Holloway says he wants to get Butterfield's loan extended until the end of the season and revealed Alex Nimely will be out for up to four weeks after tearing his hamstring against Bolton.