February 1 2013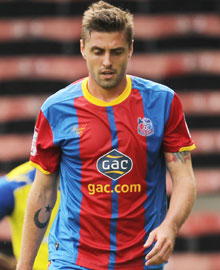 Crystal Palace have been dealt a blow with news that midfielder Andre Moritz will be been sidelined for up to eight weeks.
The Brazilian took a blow to his ankle just before half-time in a bad-tempered game against Huddersfield on Wednesday.
He was replaced for the second half by Jon Williams, and after the swelling finally went down, a scan revealed the bad news.
"Received the results and unfortunately have some serious damage in my ankle and the doctors say between 6-8 weeks till ill be able to play," said Moritz on Twitter.
"Time to stay positive and concentrate on the small things that can helps me to come back sooner than they preview... I'll be back.
"Lets just be fair people, its not time to blame anyone for what happened Things happen and im still alive and healthy, focused in my recovery."
The 26-year-old has impressed this season, scoring five goals from 26 appearances which included two brilliant free-kicks against Wolves in the New Year.
Palace boss Ian Holloway added: "He twisted his ankle and he heard a 'pop', so there might be a ligament gone there or somewhere along the line."
Captain Mile Jedkinak was caught in the face by Huddersfield forward Alan Lee meaning he will miss Saturday's match with Charlton and will have to wear a protective mask when he returns.
The clash, which went unpunished, infuriated Palace officials and led to a melee at the end of the game.
Palace assistant manager Keith Millen said: "I saw the challenge on Mile at the time and thought it was an elbow. The video footage shows he (Lee) swung his arm.
"Sometimes you have to move your arms in football and you catch people, but to do that much damage to someone's face is more than just an arm being put out there.
"That was swung and it was a straight arm swing – he's caught him and it's not the first time he's done it. It's just not acceptable, and what annoyed us after the game was the reaction, that there was no remorse from Huddersfield and that's what upset us all.
"For Mile to swell up like that and not to get any remorse from their team angered us – it's not the sort of thing you want to see on a football field."
The FA has now charged both sides for "...failure to ensure that its players/officials conducted themselves in an orderly fashion."