May 18 2013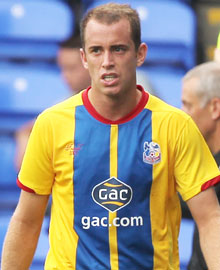 AARON WILBRAHAM reckons Wilfried Zaha will be key to Crystal Palace claiming play-off success over Watford.
WILBRAHAM, 33, will lead the line in Wembley's play-off final against the Hornets after Glenn Murray suffered knee ligament damage against Brighton in the semi-final.
And the experienced former Norwich City striker has offered some words of wisdom to young Zaha ahead of the big game.
He said: "Watford will be fearing him. I said to him 'everyone in the stadium from Watford will be fearing you, so don't disappoint them.'
"He has got pace to burn and so much skill. If he gambles more in the box like he did for his first against Brighton, he will score plenty of goals.
"He is still young. Kevin Phillips and I were talking to him after the game about gambling in the box.
"If he keeps doing that, he can score every week. He is learning still but he is an unbelievable player.
"If he plays like that in the final, he could be the key. We need our big players to turn up and Wilf is definitely that for us."
WILBRAHAM has only scored once this season from six starts and 18 sub appearances but he is eager to prove his worth in the side.
"I've not played too many games, but I'm getting into those goalscoring chances now," he said. "I got across goal to leave Wilf the space to get the first goal, so I know the job I'm doing for the team – as long as we're winning I'm happy.
"Hopefully, I'll play at Wembley and I can't wait now. We're on a high, we'll take that confidence from the game on Monday and I think we've got a good chance."