August 2 2013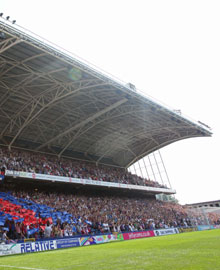 Crystal Palace have swooped for Blackpool winger ELLIOT GRANDIN.
GRANDIN's contract expired at the Championship club and he signs a one-year deal with the option for another 12 months.
The 25-year-old played under manager Ian Holloway in the Premier League and hopes he can avoid relegation this time around after Blackpool went down two years ago.
"I'm very excited," he told the Palace website. "I had a very good year in the Premier League with the gaffer, so I'm excited to start the new season.
"We had a very good run [at Blackpool]. I think the team played well, but we were unlucky at the end because we went down. We had a very, very good year though, we enjoyed it and I hope it will be the same with Crystal Palace."
The Frenchman played 12 games for the Tangerines last season, scoring three goals, and made 44 appearances overall since arriving from CSKA Sophia in August 2010.