September 28 2001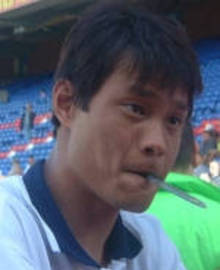 Chinese international defender Fan Zhiyi has been put on the transfer list by manager Steve Bruce.
Bruce is upset with last season's player of the year after he went back on his word that he wouldn't go off with the Chinese squad for three months on World Cup duty. He is now waiting for offers from any club interested.
He said: "It's an awful situation. He's a great defender but he shook my hand and gave me his word that he wouldn't go to China. I'll consider any offers that come in for him."
Last week, chairman Simon Jordan confirmed Dundee United has expressed an interest in Fan.
He said: "Dundee United have spoken to me about Fan, but at the moment it's just an enquiry and they have not made a bid.
"If they made a bid for him I would consider it, but I don't think they could afford what we'd be looking for."